Finding a job while living with a disability
Maintaining employment can be incredibly rewarding if you live life with a disability. Holding a job while living with a disability can help you gain confidence, move towards financial independence, and even find a community of new friends. Employment can also bring you fulfillment and a sense of purpose. Unfortunately, finding a job is not always easy, especially when you have a disability.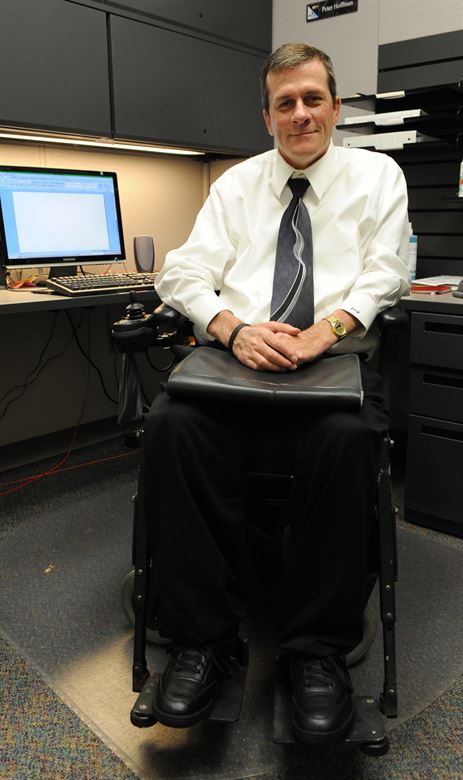 Fortunately, there are many resources out there that can help you find the right job. To successfully find a job, you must first figure out the best job for you, and then you can utilize resources such as the internet and employment programs to help you secure the job you want. Read below to learn more about how to find a job while living with a disability.
Figuring out the best job for you
There are so many different jobs out there, meaning you must figure out what kind of job is right for you. Some jobs will excite you, while others may not. You should find a job that suits your skills, fulfills your interests, and meets your unique situation. Here are a few important questions to ask yourself when figuring out the best job for you:
What are my interests? What type of job would I be interested in?
What are my skills? In what type of job can I utilize these skills?
What is my dream job? What jobs could I hold now to help me get that position someday?
Would I like to work from home or work outside of the home?
Am I looking for part-time work or full-time work?
Am I looking to keep my Medicaid and caregiving supports with employment?
Keep in mind that everyone has different skills, even if you don't have prior work experience. Identify your "soft" skills, such as adaptability, time management, work ethic, or communication skills. These skills can always be utilized in the workplace. Another important thing to remember is that you may not get your dream job right away; for example, if your dream job is Assistant Manager of a store, try going for a Cashier or Customer Service job first so you can gain the necessary work experience for your dream job. It may take time, but landing your dream job is worth it!
Lastly, an important thing to keep in mind is that your healthcare and caregiving supports, along with your monthly cash benefits, may be affected if you find employment. People who receive SSI and/or SSDI usually see a reduction in cash benefits once they start making an income. Additionally, you must maintain a certain level of income to keep your Medicaid and caregiving supports. We recommend getting in touch with a spinal cord injury job mentor to explore your employment options and learn how to keep your benefits while maintaining a job. Complete this short survey to be matched with a free spinal cord injury job mentor: https://forms.gle/nA72gAq9TCWvaD9r8
Utilizing the internet to search for jobs

The internet is the best place to search for job openings. There are many different career-finding websites for you to choose from. Here are a few different popular websites for people who are looking for employment:
CareerOneStop's Job Search Tool: Click on this link, type in your zip code and the type of job you want, and CareerOneStop will provide you with a list of relevant job openings in your area.
Your State's Job Bank: Each state has a job bank, which are websites where employers can post local job opportunities. Visit the link to find the website address for your state's job bank.
Private Job Banks: There are many different private job banks out there, which are privately-run websites where employers can post about job opportunities. Popular private job banks include Indeed.com, LinkedIn.com, Monster.com, and CareerBuilder.com.
There are also many websites that are specifically for people with disabilities who are looking for employment. Here are some employment search websites for people with disabilities:
Remember, finding employment is a numbers game! You should apply to as many positions that interest you as possible. It often takes someone dozens of completed applications to receive one job interview offer. Don't get discouraged, and keep in mind that finding employment can be a lengthy process.
Seeking help from employment programs
There are so many different programs and centers across the country that provide employment support to people with disabilities. Here are some of the best programs and centers around the country that can help you with your job search:
Vocational Rehabilitation (VR) Agencies: State VR agencies provide many different services for people with disabilities who are looking to enter the workforce. Your stateVR agency can provide you with job mentoring, career training, and job placement services. They can help you determine if you need any job trainings before you enter the workforce, such as additional schooling or certifications. Find information on your state's VR agency here: https://askjan.org/concerns/State-Vocational-Rehabilitation-Agencies.cfm?cssearch=1906401_1

American Job Centers: American Job Centers provide many services to people who are seeking employment. Your local American Job Center can provide you with a list of job openings, computers so you can search for jobs, and appointments with career counselors. These career counselors offer help with finding job applications, writing resumes, and completing job applications. There are over 3,000 American Job Centers across the nation. Visit this link to find the American Job Center near you: https://www.careeronestop.org/localhelp/americanjobcenters/find-american-job-centers.aspx
State Governors' Offices on Employment of People with Disabilities: In every state, the governor has an office focused on the rights of people with disabilities in the workforce. To help you with your employment search, your Governors' Office on Employment of People with Disabilities can connect you with different government agencies and organizations in your community that provide job training and job application assistance.
There are many more programs and centers that can assist you with finding a job, such as Independent Living Centers and State Departments of Labor. Remember, you do not have to be alone in your disability employment journey! There are so many people who are willing to help you find the right job for you.
For more information on disability employment, visit our SPINALpedia Employment Resources blog at https://spinalpedia.com/blog/category/employment-resources/.