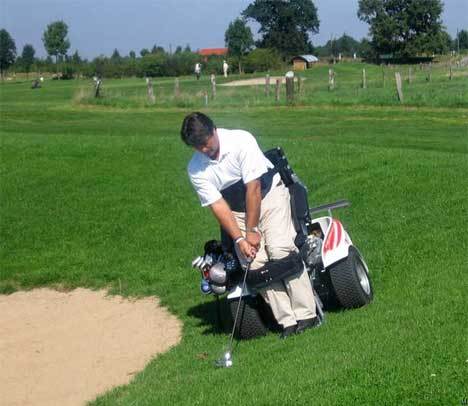 If you're not interested in becoming a full-on athlete after your spinal cord injury (hey it's not everyone's thing), there are a ton of other ways to be active. Finding something you like to do, whatever it is, is one of the most important things you can do after your injury.
Nothing is worse than being bored, doing things you don't like and settling for the mediocre. This is not something you have to do after a spinal cord injury. Read on for some of the best examples of recreational fun that are out there for individuals with spinal cord injuries. They vary widely, and that's a very good thing.
The Time is Now to Try Something New
– Golf: Adapted golf is incredible. There are special golf carts you can golf from (and are safe to take on the greens) that either stand you up or have a swing-away seat that you can swing from without hitting the cart. The golf cart that stands you up was invented by a paraplegic and is called the Paragolfer. If you were a fan of golf before your injury, this machine is definitely something to look into. Both quadriplegics and paraplegics play golf.
– Billiards: Playing pool has been a longtime recreational activity for people with spinal cord injuries and it isn't going away anytime soon. As long as there is a pool table in a bar 
somewhere, there's an opportunity for you to have some fun. There are also adapted billiards tournaments held by the Paralyzed Veterans Association that are quite popular. Adapted pool sticks are also available for quadriplegics.
– Dance: For many people with spinal cord injuries, dancing seems like a loss they'll never get back. However, many people in wheelchairs discover wheelchair dancing to be a great replacement. Wheelchair ballroom dancing is especially big in Europe, and is slowly growing here in the US. Wheelchair dancing comes in all forms, even hip-hop. There is also a popular team in California called The Walk & Roll Dance Team. Dance companies like Axis, located in San Francisco, will integrate able-bodied dancers with disabled dancers too.
– SCUBA Diving: A popular adapted sport you can find all around the world, many people with paralysis fall in love with SCUBA diving after their injuries. Not only is it amazing to see all the sea life and feel lighter, the ability to move more underwater is a great draw. Also, many people with pinal cord injuries report heightened sensation below their level of injury that lasts for about a week after diving (this is definitely a nice side effect that was recently discovered by the Cody Unser Foundation).
– Extreme Sports: From skydiving to bungee jumping, people in wheelchairs do all of these high-adrenaline activities too. What's your poison? Parasailing, hang-gliding, zip-lining, you name it, it's been adapted.
– 4×4 Mountain Biking: This sport is newer and requires a nice big hill and a 4×4 adapted mountain bike (an adapted one that has four wheels). With this activity, you literally use gravity as your minion, rolling down the bike path. All you have to do is steer as you roll down the mountain.
– Archery: Channel your inner "Katniss" with adapted archery. And if you can't hold the bow, there are bow stands for quadriplegics, so all you have to do is pull back to draw, and release.
– Martial Arts: From Soo-Bak Do (a version of Tae Kwon Do that focuses on the arms) to karate, there are a lot of opportunities in adapted martial arts. Many people with spinal cord injuries are concerned about self-defense after their injury. Martial arts provide a great way to learn how to protect yourself.
– Weight-lifting: Both paraplegics and quadriplegics have been known to take up weight-lifting, which is a great way to stay in shape after a spinal cord injury. There is even a category for wheelchair weight lifters in able-bodied US weight-lifting tournaments.
– Fishing: If low key is more your thing, you can't go wrong with fishing. Quadriplegics and paraplegics love this sport, whether it's done off of a dock, on a boat, on a lake or on the ocean. There are even adapted pole holders for quadriplegics so you don't have to worry about reeling in that massive fish you're going to tell your friends about.
–  Aviation: Using hand-controls, flying a plane or even a helicopter is still possible after a spinal cord injury. With nonprofits like Able Flight, people with spinal cord injuries are able to study the necessary adapted tools so they can learn to fly without the use of their legs. There are even paralyzed hot air balloon pilots.
– Hiking: Both manual wheelchair-users and power wheelchair-users take advantage of the stunning, and accessible, trails across the US at both national and state parks. Take your camera and snap some pictures, or push yourself to build up a sweat. Hiking can be incredibly healing no matter how you do it, which is why many with people spinal cord injuries love this recreational activity.
– Sailing: Adapted sailing is a sport enjoyed by both paraplegics and quadriplegics. High-level quadriplegics can also sail using a specialized Sip 'n Puff steering system to control the boat.
– Video Gaming: And last but not least, we can't forgot the gamers out there. For people in cold climates or those who don't have a lot of money, video games are one of the better ways for them to have fun. Online gaming is especially awesome and a great social outlet. Adapted game controls are available too (we'll provide a link to these in the Helpful Resources below).
Watch the following video on wheelchair dancing and afterwards please read the Takeaway Points on recreational ideas below.
Video: Walk and Roll Wheelchair Dance Team
Takeaway Points
Dozens and dozens of recreational opportunities abound for those with SCI
Finding an activity you truly enjoy (don't settle) is a must
Try before judging; you never know what you'll like
Helpful Resources