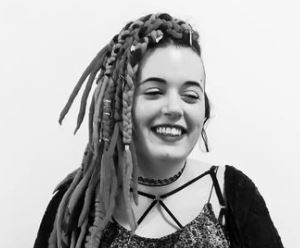 My name is Kat and the story of me being reborn in a spinal cord injured body started in 2014. At the time I was studying photography in Edinburgh, Scotland. In March 2014 I decided to visit my hometown in Athens, Greece just for a few days.
When I arrived at the airport, I took a taxi and the taxi driver, typical old fashioned man, kept turning and flirting while driving. As a result of that he crashed into a tree. Instantly the nerves at the c4-c5 vertebrae got compressed.
From that moment everything changed. It was like I was born in another body. Being a c4-c5 tetraplegic means that both lower and upper limbs are paralyzed. I thought that was the end of my photography "career;" a career that didn't have the chance to even start properly. I had to find a way to continue following my dream. Taking photos and becoming the photographer I've always wanted.
I love portraits and observing people's faces. One thing I didn't realize is how different it is looking at faces from a wheelchair in comparison to standing. Everyone's faces look darker, with harsher shadows and more mysterious.
Being a disabled artist that can't move their hands is quite challenging. But that's the beauty of it. Seeing the final photo after taking twice the time to take it than if I wasn't in a wheelchair is one the purest and most satisfying feelings. I went from being depressed and thinking that I'll never be able to bring all my artistic ideas to life, hating myself to falling in love with photography all over again.
It takes a lot of years to let yourself feel good about you and your more different way of looking at life. That's where the idea of writing a book came from. Me and Constantine Blintzios are writing my memoirs. It will be a book that talks about every stage of mental health after the accident, sex, relationships and a lot of taboos that exist around disability.
I want people to read it and see that's it's ok to be different. It's ok to love life after a life changing incident and most of all make the non-disabled community see that we are all the same, just made by different manufacturers.
— Follow Kat at @katherine__miz