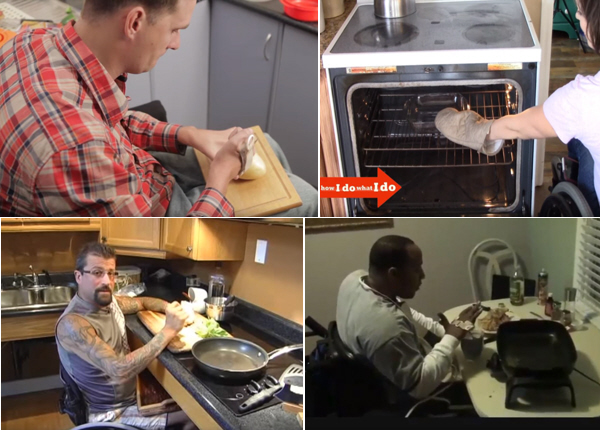 Thanksgiving is just days away, and you know what that means…it's time to start holiday cooking prep. If you're a wheelchair-user, you already know what masterpieces can be done. Even if it's just a side dish, cooking on four wheels ain't nothing but a thing.
There are a ton of tips out there to help you put together a holiday dinner as stress-free as possible. From organizing your cooking space so everything is in reach to buying must-have cooking tools that can overcome nearly any limitation you have, read on for timely tips to help improve your wheelchair holiday cooking game.
Pre-Organize Your Cooking Space
No matter what you're making, holiday cooking usually requires a few more steps than the average recipe. You're always going back and forth to the fridge or the pantry as you're cooking. But if you use a wheelchair, rolling back and forth to these spots can get tiresome, plus if it's a time sensitive recipe, you may not roll hustle fast enough.
This is why before you cook, you should always prep you're cooking space. This means having all of your ingredients out and ready before you begin cooking. For those who need extra time pouring and measuring ingredients, also do this before you begin.
Cook Before the Holiday (and Company) Arrives
If it takes longer for you to cook and bake in general, consider prepping as much food as you can before the actual day arrives. There are many holiday recipes you can make beforehand – up to 2 to 3 days prior – that will taste as good as if you made it the day of the holiday. Pies, bars and cakes work great 2-3 days before. You can also prep your stuffing and vegetable dishes the day before and just pop them in the oven when you're close to serving time.
Prep/Cook with a Lap Tray
If you don't have the accessible kitchen of your dreams, that doesn't mean you can't cook. Many people will put an electric/pluggable stove top on a kitchen table that they roll underneath. This is also where you can do your food prep. Another great place to prep your food is on your lap. To do this, use a thick cutting board that is square so it can sit on your lap safely.
Many people call this a lap tray, but a standard cutting board will suffice. Having this additional flat space that is directly in front of you is very helpful for quadriplegic cooks with poor balance.
Make Use of Automatic Can Openers
If you have limited dexterity, you should also consider buying an automatic can opener. They runs on four AA batteries. This is especially handy during the holidays since so many recipes call for canned foods, from cream of chicken soup or canned pumpkin. You can buy a battery-powered automatic can opener at Walmart or Target for $15.00.
But this is just one sweet "auto" item. If you have limited dexterity, there's seems to be a tool that will do nearly whatever you're trying to do for you when it comes to cooking, from cutting garlic and taking the shell off an egg to cutting an avocado.
Get a Sharp, Rocker Knife
There are a lot of knives made for people with limited dexterity, but one of the best is the half-moon shaped rocker knife from Kitchenaid called the Mezzaluna. This knife is sharp, it can cut nearly anything you put to it, which makes it great if you have limited dexterity. The rocker knife is also great because it's easy to hold because of it's giant red rubber handle.
All you need is bicep and shoulder movement to use it, with minimal wrist movement needed. With all the chopping and cutting that's required for so many holiday recipes, this knife will definitely come in handy. Buy it for $12.99 here https://www.amazon.com/KitchenAid-Cooks-Mezzaluna-Sheath-Red/dp/B005D6G1KY
Use a Toaster Oven for Full Access (and More Space)
If your kitchen also lacks a truly accessible oven, you should purchase a countertop oven (aka toaster oven) and put it directly on your kitchen counter. This will also put it at your level, so you can put in dishes/pans and take them out easier and safer. If you already have an oven, a countertop oven will come in handy during the holidays. They offer additional oven space when making multiple dishes, and they're great for holidag baking.
Still not feeling like cooking? Then don't! Making anything "semi-homemade" can be just as good. Whatever you do, don't let the idea of cooking for the holidays overwhelm you. Cooking and entertaining can be some of life's biggest rewards, even sitting down, and it can be done.
– Cooking advice from SCI survivors in Sweden – Spinalis Tips
What wheelchair cooking tips make your holiday cooking/baking fest a smashing success?
Adapted Cooking Videos
– What Next – In the kitchen 2 – quadriplegia
– Cooking with Quad Chef Cory (C6 quad)
– How I Put Something in the Oven (C7 quad)
– Cutting an Onion (as a C7 quad)<
– Grocery shopping in my wheelchair