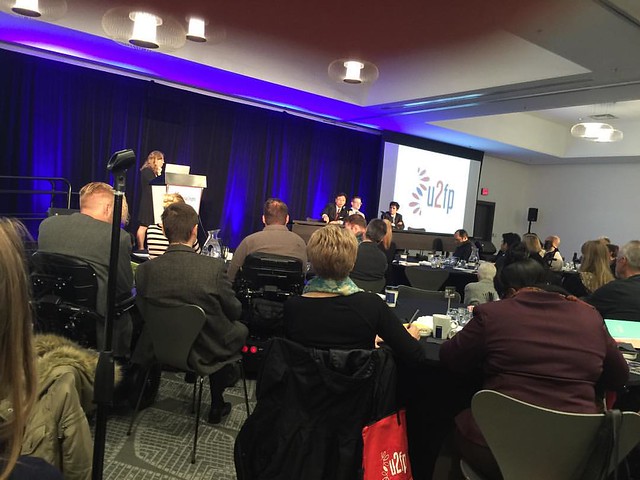 Dr. Kendall Lee from the Mayo Clinic speaking.
Every year the Unite 2 Fight Paralysis Foundation (U2FP) puts on their annual event, the W2W Symposium, a two-day conference bringing together spinal cord injury advocates and spinal cord injury researchers all under one roof. It's a rare opportunity to speak face-to-face with possibly someone who will help you regain function one day, and this year it was held in Minneapolis, Minnesota; at the Radisson Blue Hotel, connected to the Mall of America no less.
This year the event focused on funding advocacy and epidural stimulation, a new area of spinal cord injury research that's getting a lot of attention. This research has been able to produce results that no other research has yet to-date, which is why two of the most noteworthy presentations of the weekend were on this very topic. Epidural simulation applies electrical impulses to the injury site, stimulating the spinal cord and enabling weak signals to break through the injured area.
The 2-day event started last Friday at the gorgeous Radisson Blue hotel with a healthy debate between Minnesota legislators – Democrats and Republicans – sharing how to be an advocate for research funding. Research advocates in Minnesota last, with the help of Matthew Roderick (father of a quadriplegic and Advocacy Director for U2FP) year were able to secure $500,000 from the Senate, which was donated to the University of Minnesota's lead researcher on spinal cord injury research, Dr. Ann Parr. She also spoke during the symposium as well on her research developing induced pluripotent stem cells.
One of the most exciting presentations of the weekend came from Dr. Kendall Lee, a neurosurgeon and researcher from the Mayo Clinic. His team was awarded a healthy grant from the Jack Jablonski Foundation (a foundation created in honor of Jack Jablonski, a young man paralyzed in a hockey HS game) which enabled them to conduct a clinical trial on two patients with chronic spinal cord injuries that produced such exciting results that Dr. Kendall Lee said this was the highlight of his career. The Mayo Clinic is receiving several million dollars more to move on to the next phase of their study. Learn more about the ongoing study here
Another presentation that stood out was Dr. Nick Terrafranca of NeuroRecovery Technologies who's also seeing groundbreaking results in regards to returning function to people with spinal cord injuries, and even when the stimulator is turned off. Almost 80% of their subjects have seen some kind of return, whether it is only autonomic function, muscle movement or both. This particular company just received a large investor and hopes to bring the external version of their spinal cord stimulator to the market in 2.5 years. The future is certainly looking very stimulating. Follow the research at NeuroRecovery Technologies here


Mice used in an epidural stimulation study; before and after stim is turned on.
On the second day of the symposium the annual advocacy award was announced, and Kate Willette, the author of Don't Call It a Miracle: The Quest to Cure Spinal Cord Injury (download it for free here), was the very deserving winner of this year's award. Carrie Shogren, a occupational therapist from the Courage Center, a Minneapolis-area SCI rehab facility, also spoke on the second day on the exciting results they've been seeing with the neuromuscular stimulation they're doing on different muscle groups in their patients. People with complete injuries are getting motor return, which for people with high cervical injuries can mean the world of difference.
The merging of minds every year at the symposium is always the kick everyone needs to continue their work throughout the year. Whether they are an advocate or researcher, the energy of sharing each other's experiences helps the community more than anyone knows. Next year the symposium will be in Miami, which certainly may draw a few more visitors.
If you're interested in reading more experiences on this year's excellent W2W symposium, please check out the links below.
Did you attend W2W this year? What research got you pumped up?
A butt chair in the Radisson Blue Lobby
Links
– Learn more about the W2W Symposium
– Read Kate Willette's live blog from W2W this year
– Christopher Reeve Foundation's write-up: Death Valley Days – W2W 2016