Welcome to an overview of the most important technology anyone with a high level spinal cord injury should consider. We hope you find the document below useful. If you have any suggestions for this ongoing project, please email us at spinalpedia@gmail.com.
* To move ahead to your desired section, please click on one of the sections below
Sections
1. iPad/Tablet & Phone Control
tecla-e
Tecla Shield
Dragon Naturally-Speaking
Open Sesame app
LipSync
Tobii eye gaze technology
Glassouse
Switch Control
Mouthsticks
Bluetooth Headset
Phone Mounts
Splashtop
iBooks App/Kindle app
Dragon NaturallySpeaking
Automatic Page Turner
Portable Voice Amplifier Wireless
Wheelchair Permobil UniTrack USB Charger
Livescribe 3 Smartpen Black Edition
Headset Microphones
Desktop Microphones
Heavy-Duty Paper Cutter
Adjustable Table Cupholders
MagConnect Universal Tablet Module Wheelchair Rail Mount
Amazon Echo
Google Home
Logitech Harmony
Samsung SmartThings
Wemo Switch Smart Plug
Kasa Smart Wi-Fi Plug Mini by TP-Link
Honeywell Smart Wi-Fi Thermostat
Philips Hue
Open Sesame Automatic Door Opener Kit
OBI Eating device
KINOVA JACO Assistive Arm
Fire TV
Quadstick
IKAN Power Wheelchair Bowler
Chapter 1: iPad/Tablet & Phone Control
tecla-e
tecla-e is the newest version of Tecla. The cloud-connected assistive device provides users with control of their smart devices and environment through wheelchair driving controls and ability switches from manufacturers like AbleNet. It also has a mounting bracket so you can safely affix this to your power wheelchair. Watch it in action
Tecla Shield
The Tecla Shield provides quadriplegic students full access to iPads, iPhones, and Android devices through wireless technology controlled by the same adaptive switches students normally use. These include simple buttons pushed by the head or shoulder, or by blowing into a straw, or blinking. The Tecla Shield also uses Bluetooth to connect to an iPad or other device, allowing students to open and use apps, to fully navigate a device and to type/dictate notes and messages. A wheelchair mount is available.
Open Sesame app
With Open Sesame, the freedom and control of using your smartphone is restored. Using the front-facing camera on any Android device, Open Sesame is an app that tracks head movement to unlock touch-free texting, social activity, searching the web and much more all on your smartphone.
LipSync
The Lipsync is a mouth-operated joystick that allows a person to control a computer cursor with minimal head and neck movement. All the electronics are housed in the 'head' of the device so there are no additional control boxes, making the LipSync a great candidate for portable, wheelchair-mounted applications.
The mouthpiece is attached to a very precise miniature joystick sensor that requires slight pressure to move a cursor on the screen. Another cool aspect is that you can buy a 3d printed version/kit and build this yourself, or you can buy it already built.
Tobii eye gaze technology
The Tobii eye gaze system tracks a user's eye position – to control the mouse pointer. Once the usergets the process down, this way of controlling a device can be quite exact. The system works by shining an infrared light on your pupil and then tracking the light.
Glassouse
Developed and sold from China, Glassouse is an assistive device that helps people with disabilities do things like control their computer, tablet, mobile phone, or TV, and all through head movements. Some dislike that it must be worn all the time in order to use it, but if you have a busy work day ahead of you, it's a great product.
Switch Control
Apple devices include an iOS setting called Switch Control that turns touchscreen technology into a device that can be manipulated with basic inputs. Switches are typically used by the student and the touchscreen itself can become a switch as the front-facing camera detects head movements. A fantastic built-in setting, Switch Control is highly adaptable.
There are also countless switches available and almost any will work provided they have a mono jack plug. Here are two examples of switches that are ideal for a quadriplegic, The Micro Light Switch. You can also watch an iOS7 Switch Control overview here
Mouthsticks
For a low-tech solution for using your phone or iPad that doesn't rely on electricity, a mouthstick is a great option. Since the 1970s, -it -has been the standard piece of adaptive technology that enables quadriplegics to use phones, read book, play games, paint, use touchscreens, and a multitude of other tasks. To purchase a high quality mouthstick, do so at the link below.
– Visit Broadened Horizons Lightweight Mouthstick
Bluetooth Headsets
Any Bluetooth headset will enable a quadriplegic to answer phones and control voice-activated devices with ease, but the Blue Parrott model has excellent noise cancellation and offers three different wearing styles. It's a little more expensive than other Bluetooth headsets, but it offers a quality, reliable headset that's hard to find.
– Visit Blue Parrott Bluetooth Headset
Phone Mounts
Another low-tech but highly-successful adaptation that enables a high-level quadriplegic to use a phone solo is a phone mount. -Whether it's a phone or an iPad, these mounts are available in many stores. We recommend the links below.
– Visit two great phone mounts: Arkon iPhone Gooseneck Mount and Tecla Phone Mount
Chapter 3: School
Splashtop
Splashtop is an app allows students to remotely login to a laptop through an iPad, which eliminates the need to transport their laptop. This makes it possible for high-level quadriplegics to send what they need to from class directly to their home computer without having to worry about adapting a way to bring their laptop to class.
iBooks App/Kindle app
Many quadriplegics have a difficult time handling the pages of a book. Downloading an eBook reader app can provide unlimited access to books. The iBooks app for Apple-users is a highly accessible eBook app recommended by many quadriplegics. For Android users, an eBook app option is the Kindle app. Simply download and click to read. More and more universities as well are offering online books.
– Visit iBooks app
– Visit the Kindle app
Dragon NaturallySpeaking
This software allows a user to type as fast as they can talk and control their computer with their voice.
There are several automatic page turners on the market. The automatic page turner above is one of many that can be controlled by voice. Once set-up, this allows anyone no matter their mobility to read a real book. Make sure to look at maximum pages it can hold when purchasing.
This can be used for when speaking to people, asking a question in class or possibly for voice dictation with dragon.
This can be used to charge any electronic device such as a phone, tablet or portable voice amplifier straight from the wheelchair.
– Visit Wheelchair Permobil UniTrack USB Charger
Fujitsu ScanSnap iX500 Scanner
This high-speed scanner is perfect for electronically scanning everyday paper files and books.
– Visit Fujitsu ScanSnap iX500 Scanner
Livescribe 3 Smartpen Black Edition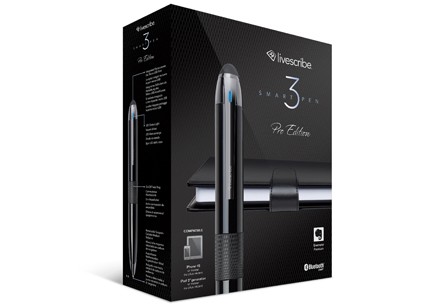 This pen creates a digital and audio copy of anything that is written or spoken. It is perfect for school in order to view notes live, and review notes and audio later. Converts handwritten notes to text.
– Visit Livescribe 3 Smartpen Black Edition
Options for High Quality Headset Microphones
It is important to get a good quality microphone if you'll be using Dragon NaturallySpeaking. One of these mics is the PRO 8HEx Hypercardioid Dynamic Headworn Microphone, the another headset mic is the Boom O Microphone with PC Cable & iPhone / iPad adapter cable. See both below.
– Visit PRO 8HEx Hypercardioid and the Boom O Microphone
Desktop Microphones
These microphones are perfect because you don't have to put on any headset and you can sit down at your desk to use Dragon NaturallySpeaking: The Blue Microphones enCORE 100 Studio-Grade Dynamic Performance Mic is an option, as is the Adjustable Microphone Suspension Boom Scissor Arm is a great option.
Heavy-Duty Paper Cutter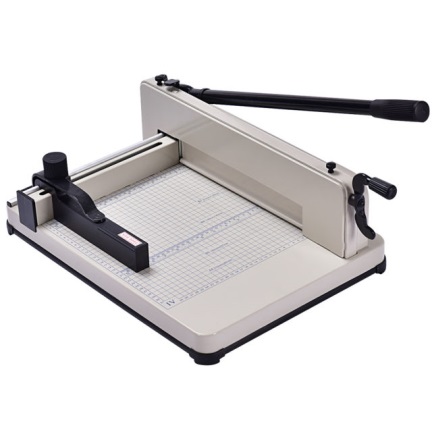 This device is perfect for cutting the binding off of books which then allows you to scan in the pages electronically with a high-speed scanner.
– Visit Heavy-Duty Paper Cutter
Adjustable Table Cupholders
These three products combined attached to a table or desk and allows the user to drink out of a cup/straw and is perfect because the gooseneck arm can be bent and positioned closer to one's face. Three products:
– Duro-Med Universal Beverage Holder
– Manfrotto 035 Super Clamp without Stud
– Manfrotto 237HD Heavy-Duty Flex Arm
MagConnect Universal Tablet Module Wheelchair Rail Mount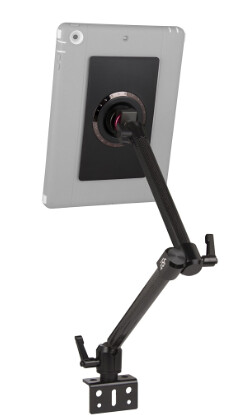 Can use this set up to easily attach and attach a tablet to the wheelchair track system. Also this set up can be adjusted to position the tablet in an optimal area.
– Visit MagConnect Universal Tablet Module Wheelchair Rail Mount
Chapter 4: Home
Amazon Echo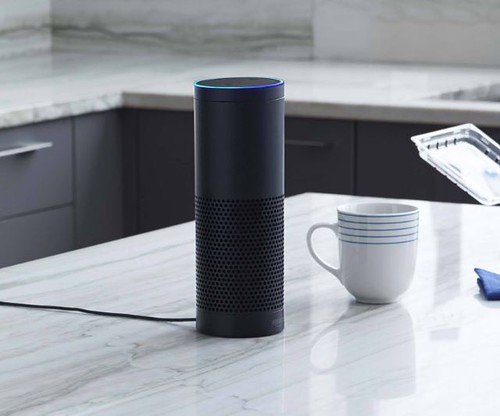 A ground-breaking voice-activated, internet-connected "smart speaker" with a built-in virtual assistant named Alexa, the Amazon Echo follows your instructions, such as looking up information, telling you the time, playing music, etc. The Echo also controls a multitude of devices in your home and Amazon just released new smart-home devices as well, such as a smart microwave and an Alexa-enabled clock.
Google Home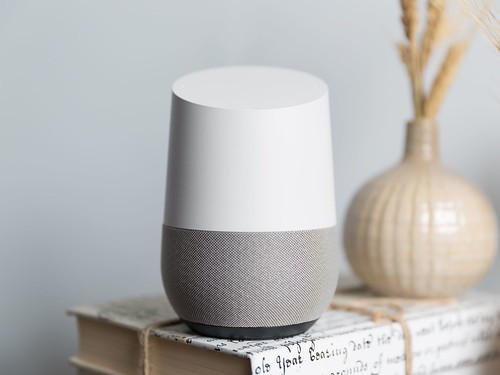 The Google Home device lets you do a myriad of tasks using your voice, all within your home. It can play music, playlists, audiobooks, read out your to-do list, do internet searches, voice calls and many other tasks. It can also control 5,000 different smart home devices.
Logitech Harmony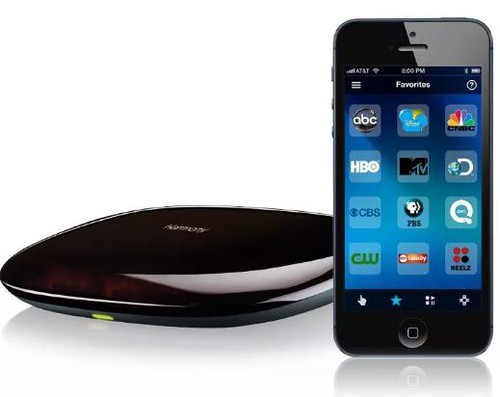 The Logitech Harmony Hub allows you to control nearly any smart device you can imagine. It is compatible with over 270,000 devices, including the tecla-e. It works by turning your smartphone or tablet into a universal remote, thus providing wireless control of your home entertainment and smart home devices whether you are at home (or not).
Samsung SmartThings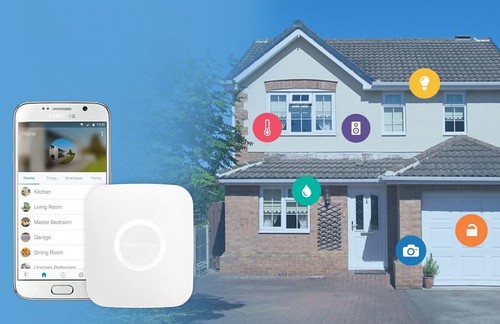 Samsung SmartThings is another home hub that communicates with all your smart devices to provide you the ultimate wireless control of your home. One feature that sets SmartThings apart from the competition, especially for tecla-e users, is its battery backup. If the power goes out, or you're unable to reset your Internet manually, you can continue controlling certain functions for up to 10 hours. And if you're on the market for a new Smart TV, Samsung's 2016 SUHD TVs have all built-in SmartThings integration.
Wemo Switch Smart Plug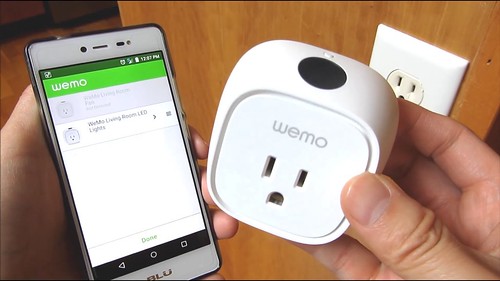 If you're looking for something to control the appliances you already own, the Wemo Switch Smart Plug is such a great piece of technology we wish it had the ability to multiply. You can plug the Wemo Switch into an any electrical outlet and then plug any device into it and voilà – you have complete wireless control of your device using the free Wemo app.
Kasa Smart Wi-Fi Plug Mini by TP-Link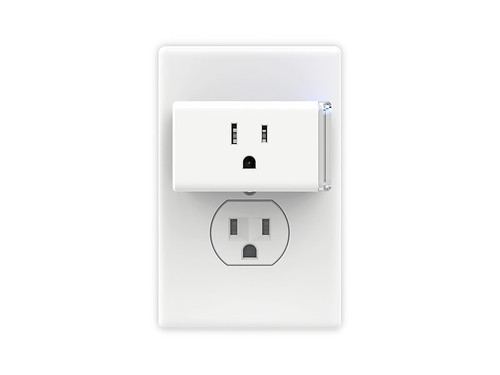 The Kasa Smart Wi-Fi Plug Mini by TP-Link is a cool device that pairs with Amazon Alexa and The Google Assistant, letting you control connected devices with simple voice commands. You can give each smart plug its own unique name and combine multiple smart products into a single group for even easier control. From coffee makers to TVs, this Wi-Fi plug gives you tons of options with regards to true hands-free control at home.
– Visit the Kasa Smart Wi-Fi Plug Mini
Honeywell Smart Wi-Fi Thermostat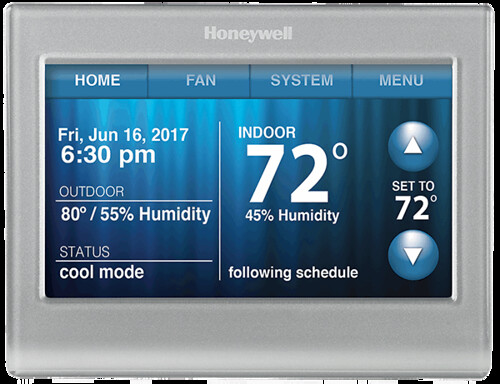 Since quadriplegics have irregular temperature regulation due to their spinal cord injury, a Wi-Fi enabled thermostat like the Honeywell Wi-Fi Smart Thermostat is a dream solution for anyone quad. And the incredible Wi-Fi Smart Thermostat is much like other Wi-Fi enabled thermostats on the market, such as Nest, in that it allows you to control it from your phone, including using voice controls.
– Visit Honeywell Smart Wi-Fi Thermostat
Philips Hue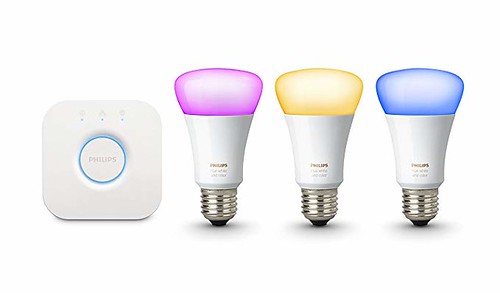 Philips Hue is a fantastic add-on to any smart home hub or you can use it directly to control the lighting throughout your home. Philips Hue specially connected bulbs and their bridge allows you to take full control of your lighting. This smart device is a mix of functionality and creativity, with the ability to turn on and off the lights through the app, plus it utilizes the built-in sensor to adjust the dimness and color ambiance of a room.
Open Sesame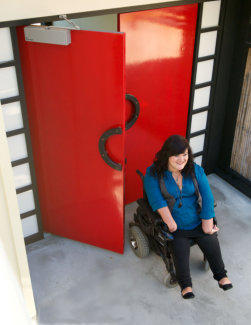 At the touch of a button, the Open Sesame automatic door opener gives complete independence to enter and exit any door. This professional grade system will unlatch a locked door, then open, pause, and close it – all automatically. Note: this device does not lock or unlock your door hardware. The Open Sesame can also be operated by a variety of wheelchair mounted remote controls and other specialty controls.
– Visit Open Sesame Automatic Door Opener Kit
OBI Eating device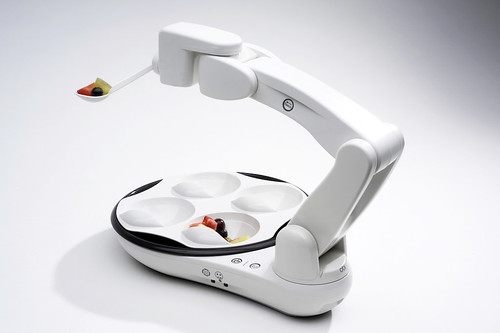 OBI is an amazing self-feeding device/robot that helps people with upper-body impairments eat on their own. The pace of the arm can be adjusted. Simply have someone put food in the device and you're set. The robotic arm allows you to even personalize its movements and delivery positions in thousands of different ways.
KINOVA JACO Assistive Robot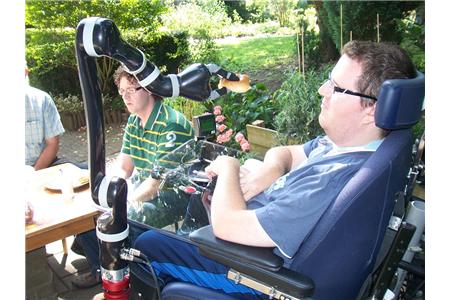 The JACO Assistive robotic arm is designed to do everything a human being's arm can do – and more. Featuring six-axis movement corresponding to shoulder, elbow and wrist, JACO allows 16 movements in all to mimic the smoothness and versatility of a fully functioning human arm.
It can be mounted on any powerchair, using -its power-source, and it can be controlled using head control, sip-and-puff/head array systems or almost any other interface, in any combination. Made from lightweight carbon fiber, JACO is also durable, light to the touch, weather-resistant and safe to operate.
– Visit KINOVA JACO Assistive Robot
Chapter 5: Entertainment
Fire TV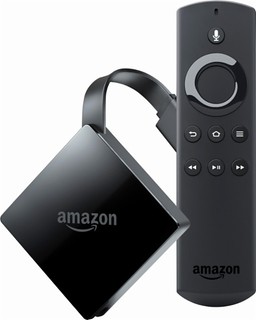 Amazon Fire TV is a tiny box that connects your HDTV to the vast world of online entertainment. It can be controlled via your voice vs. the remote it comes with. With a huge selection of TV episodes and movies, voice search actually works, plus it has exclusive features like ASAP and Amazon FreeTime.It's an easy way to enjoy Netflix, Prime Video, Hulu and more.
Quadstick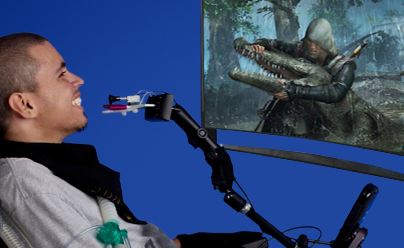 Gaming technology for quadriplegics with no arm movement has come a long way in the last few years thanks to the Quadstick. This phenomenal device offers quadriplegics the ability to play high level video games at the same ability as able-bodied players can, thanks to its amazing technology, including sip/puff pressure sensors, a lip position sensor and a mouth-operated joystick.
Their Quadstick FPS is their most sophisticated model and allows players to quickly map between inputs and outputs during the game. For anyone who loved playing video games before their injury, this Quadstick has a solid reputation for returning the ability to game back.
IKAN Power Wheelchair Bowler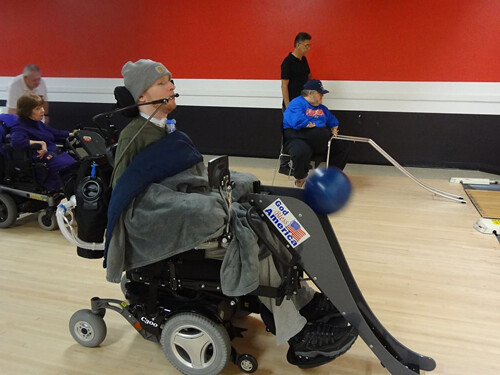 Created by a vent-dependent quadriplegic, the IKAN Bowler attaches to the leg rests on a power wheelchair and allows the bowler to control the speed, direction, and timing of the bowling ball's release. Wheelchair movement and the unique parabolic bowling arm generate the energy to propel the ball down the lane. Braking the wheelchair sends the ball in the direction the bowler wants.
– Visit IKAN Power Wheelchair Bowler