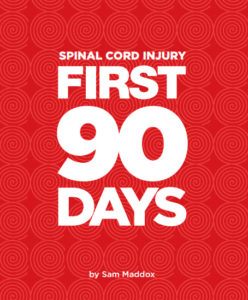 Free knowledge is always a good thing, especially when dealing with spinal cord injury information. This is why we heartily recommend Spinal Cord Injury: First 90 Days. Written for people in Southern California, this book covers everything you need to know when figuring out life with a new spinal cord injury. Not only is it free, it was written by a veritable expert in the spinal cord injury field (and the founder of New Mobility Magazine), Sam Maddox.
His new guide is 140-pages, 11 chapters and makes sure the reader becomes an expert in everything spinal cord injury. And if you're new to life with paralysis (the target audience of this book) you're guaranteed to come away not only more educated, but more confident about your situation. There's no better tonic than educating yourself to the hilt about anything you're confronting in the beginning of any situation, and Spinal Cord Injury: First 90 Days, helps you get ready to tackle life with a SCI in a big way.
No matter the topic you're seeking info on, it's likely covered in this guide. Spinal Cord Injury: First 90 Days starts out with chapters on emergency management, SCI basics, choosing a rehab facility and it shares important peer to peer resources. Next, the book moves onto more involved topics like pediatric SCI, secondary conditions that happen to both the body and mind after a spinal cord injury, your legal rights, spinal cord injury research and much more.
Are you intrigued? There's a lot more to know after sustaining a SCI than just how to buy the perfect wheelchair, and this guide makes sure you're as informed as you can possibly be. The guide is also full of apropos ads to help you live life as independently and healthy as possible. While the book is heavily geared for the SoCal reader, there are many sections that also apply no matter where you live.
– Read it online or order your free-copy here: Spinal Cord Injury: First 90 Days