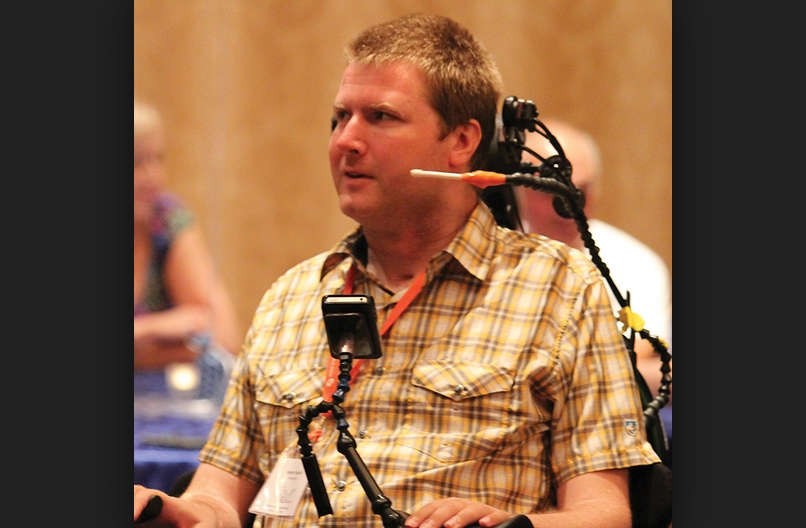 Even though he's only 30 years old, Rob Wudlick's journey since his spinal cord injury has been one-of-the kind. A fresh SCI research advocate, newly injured people like Rob are refusing to accept spinal cord injuries as permanent, and what they're doing to help the SCI community is helping in big ways.
Other than working out since his injury using activity-based therapy (and being one of the most positive guys in the gym), he's a founding member and Chairman of the Board for a nonprofit dedicated to curing spinal cord injury, Get Up Stand Up (GUSU), and is busy hitting the pavement at Capitol Hill (in his home state or in DC) whenever he can. Read on for a snapshot into the life of an unexpected advocate.
Why he's fearless
After graduating from Montana State University, Bozeman, with a degree in Industrial & Management Engineering, Rob decided to go on a month-long river rafting trip with friends in April 2011 down the Colorado River and through the Grand Canyon, which was a favorite pastime of his (along with sailing, climbing and skiing), but 19 days into the trip Rob dove into the river to retrieve a piece of trash one of his friends had dropped, and smashed his C4 and C5 vertebrae, bruising his spinal cord.
Rob was airlifted to Las Vegas and did his initial rehab at Craig hospital in Colorado. After his rehab, Rob moved back home to Minnesota where he was able to start his participation in the ABLE Program, a program funded by the Christopher Reeve Foundation where he's able to do a variety of activity-based rehabilitation from gait training to upper extremity FES. Gait training aims to create new nerve pathways, a rewiring if you will, within the spinal cord.
Since doing this rehab, he's seen some exciting results. From making strides in keeping his trunk upright while in the harness system and an increase of range of motion in his upper extremities to improving his core strength and being able to cut back on certain medications, Rob has seen several improvements since taking part in ABLE.
But therapy hasn't been his only concern. Always hoping for a total recovery, Rob has become involved in advocating for monetary funding for spinal cord injury research in the political field. He joined forces with Matthew Roderick, father a C5-6 quad, last year to found Get Up Stand Up (GUSU), a nonprofit dedicated to finding a functional cure for spinal cord injury. He's also their Treasurer and Chairman of the Board, and they've been up to some exciting stuff.
What's next?
GUSU has been busy with spinal cord research legislative efforts in Minnesota and finally helped a research bill pass in 2015. GUSU successfully led the way for the passage of the "Minnesota Spinal Cord & Traumatic Brain Injury Research Grant Program", which funds $500,000 a year for spinal cord and traumatic brain injury research in Minnesota.
GUSU also has a new grant act in the works: The MN Spinal Cord & Brain Injury Research Grant Act which asks for $8 million annually to fund research grants working on traumatic brain and SCI. Also in 2015, Rob and a few other locally injured men traveled to Washington, DC on behalf of United Spinal's annual "Roll on Capitol Hill" conference to advocate for care issues such as the complex rehabilitation technology bill and accessibly rights
And in September 2015, Rob (along with the co-founder of GUSU Matthew Roderick), gave a speech on amateur activism at the annual Working2Walk Conference by U2FP (United2Fight Paralysis) and spoke on their efforts to get the bill passed in Minnesota. Watch their speech
A longtime Minnesota Vikings, Twins and Wild fan, as well as dabbling in public speaking whenever he can, this 30 year old isn't stopping his stride anytime soon. With the heart of a lion and a smile that has the ability to touch anyone against his cause, we hope to see his dream of a SCI cure one day realized.
Have you dabbled in advocacy post-injury?
– Visit GUSU
Watch the videos
– Confessions of Amateur Activists – Kate Willette, Matthew Rodreick & Rob Wudlick