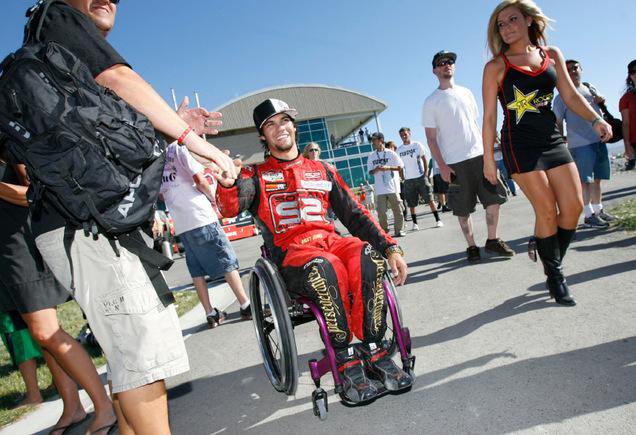 One word has been driving Ricky James since he broke his back – perseverance (and he has the entire thing tattooed up his left leg in huge cursive font).
If you know motocross, you probably know who Ricky James is (and maybe knew about him before injury). He was a rising 15 year old star in the motocross world who started racing at the age of 2 (they called him a "prodigy on two wheels"). He was even home-schooled so he could keep up with his crazy schedule.
Motocross is in Ricky's blood and always will be. That is why after his accident (he hit a dirt embankment racing Amateurs Nationals in Lake Whitney, Texas), he was the last guy to ever think of wiping his hands clean of the sport he grew up sleeping and breathing. Are you kidding? "Motocrossers are a different breed," says Ricky.
Why he's fearless
Ricky became paralyzed after breaking his spine in half (check out this insane x-ray of his injury on his site under "What is SCI?") at the T6-7 level, but that didn't stop him. Thanks to a family friend who was also paralyzed, after only five weeks after his injury Ricky was back out at the track with friends. He is still so alive, still so strong (both physically and mentally) and has energy that just won't quit. I love that Ricky refuses to let his injury stop him from doing what he loves. In layman's speak? He's on the same bike.
Ricky uses a steering stabilizer for more balance, electronic shifting and an electronic start to make up for the use of his legs; and those mods are NOT cheap. Thanks to his sponsors, including SoCal Trucks, Colours Wheelchairs and SHOEI, he has the coolest set-up any adrenaline-addict paraplegic could dream of (and also thanks to help from the paralyzed motocross experts @ Para Pros Racing).
Ricky was back racing within months of his injury, and is doing a lot more on top of straight motocross. He also races motokarts ("adaptive motox;" a new sport created by the X-Games, which he was in in 2008) and off-road trucks. "I don't want to be known as the wheelchair guy that races," he says. "I want to be known as that really fast guy who happens to be in a wheelchair."
What's next
Finally healed up after two riding injuries (yep they still happen. He took a several month break after dislocating his shoulder), Ricky did something that always impresses me whenever I hear of a wheeler doing it – completing an Ironman triathlon. He went to Lake Placid, NY on July 20th to complete in his second (yup second) Ironman triathlon.
His first Ironman was in 2008 in Kona, Hawaii. Ironman triathlons are insane acts of endurance, requiring entrants to run/push a marathon (26.4 miles), swim 2.4 miles and bicycle/hand-bicycle 112 miles. Ricky is rocking his still-there abilities to their core.
As a representative for Life Rolls On, racing any way he can still get it (including NASCAR trucks) and living the beautiful life in Oceanside, Cali (a tad jealous of that one), at 23, Ricky has made his way through the wilderness of his youth in a beautifully refined piece (I'm sure to many people's surprise). He just refuses to quit, and I, and the motocross world, love him for it.
Watch the videos!
– NBC Sports profiles Ricky James (great interview with his parents, beautiful clip)
– Fun interview with Ricky James (with an Aussie reporter) about Ironman (and see his multiple leg tattoos)
– Ricky James talks about his accident and how he can still ride (from Transworldmx)
– Cool clip of Ricky James in a PSA from Life Rolls On