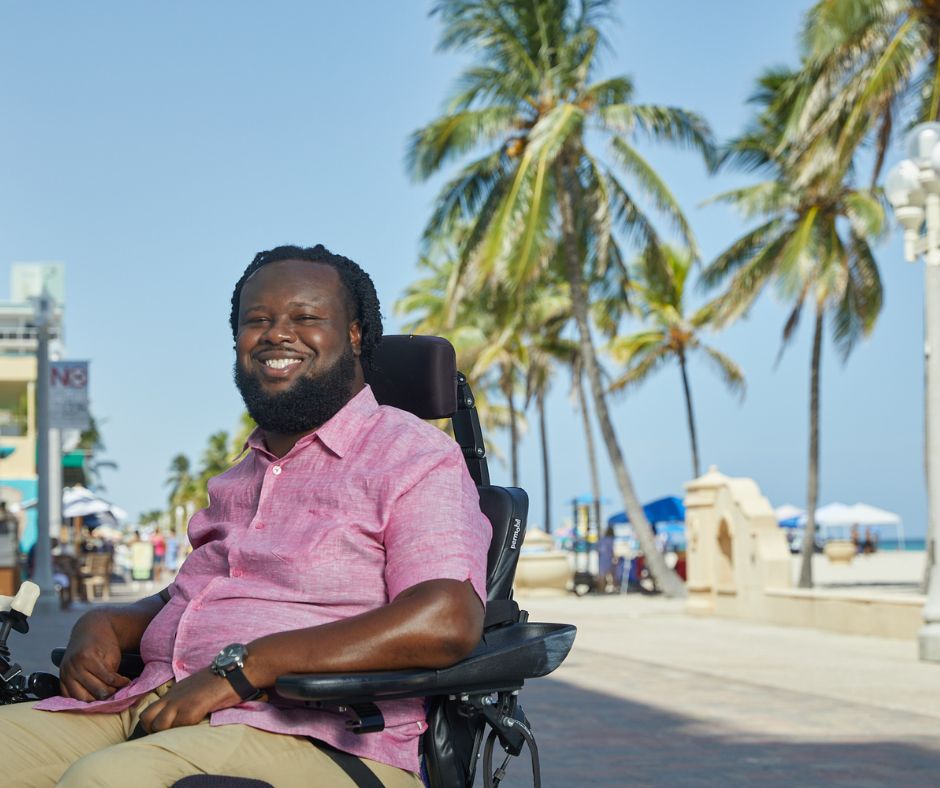 Rhonel Cinous wears a lot of cool hats. An accessibility tester for NASA, a podcast host and a leading voice of United Spinal's Tech Access Group, Rhonel Cinous, 37 years old and from Miami, Florida, isn't afraid to delve deep into unknown worlds if it may help people with disabilities. An adaptive technology expert as well as a passionate disability advocate, Rhonel has one amazing life story. Read all about it below.
Why He's Fearless
As a Haitian-American, one of Rhonel's goals was to visit Haiti. In 2016, he finally had the opportunity to visit during a work trip with his employer. At the time, Rhonel was working as a radio show host in Miami. While snorkeling, he was injured in a diving accident. "My second day there, on December 2, 2016, while on a snorkeling excursion, I dove into the ocean, hit a sandbar and dislocated my C5 and C6 vertebrae," he says.
After his injury, Rhonel went back to Florida for surgery, and then inpatient and outpatient therapy at Jackson Memorial Hospital. He also went to NeuroFit 360, an activity-based therapy gym. What he was interested in next however was returning back to the media world; a world he feared he wouldn't be able to return to post-injury. "I was terrified that my budding career in radio and the media was cut short. Not only because of my physical differences post injury but because I had lost a lot of my vocal capacity."
For many with high level spinal cord injuries like Rhonel, they lose function in their diaphragm and need a respirator. "Thankfully I did not need a respirator but it was very difficult for me to project my voice and to get more than a sentence or two out at a time without tiring myself out. But I was determined to get back on-air and my therapy team was just as determined to get me back." Instead of going back to radio, Rhonel started his own podcast so he could work on his own schedule. His podcast, "The Ramp. It. Up!" debuted January 2020.
And later on in 2020 once the pandemic hit, Rhonel was introduced the United Spinal Association through his local South Florida spinal cord injury support group. His group became a new chapter of the United Spinal Association in 2020. "When our bi-weekly meetings shifted to virtual over Zoom I was introduced to some of the administration at United Spinal. I quickly became a member of the Tech Access Initiative and for the last 2 years I've been the facilitator of the 'Tech Talks,' which are held bi-weekly over Zoom."
United Spinal's "Tech Access Initiative" brings together consumer advocates that provide unique perspectives on the latest in technology, making sure it's accessible for everyone. Members of the initiative work to advocate for policies that make technology more inclusive and they aim to empower people with disabilities to take advantage of the growing opportunities of technology when it comes to their health and independence. Members meet twice a month and membership is open to anyone with a disability.
The group is seeking individuals with mobility disabilities to work as testers of the technology and to see how accessible it is. If you'd like to become a tester, you can do so here: https://unitedspinal.org/tech-access-initiative/
Last year, Rhonel had a once in a lifetime opportunity to test something monumental – the Artemis project by NASA; a virtual mission to the Moon. Specifically, he tested the accessibility of Callisto, a technology demonstration payload embedded in the spacecraft. "Amazon reached out to United Spinal for a representative to participate in the mission," explaining how he was chosen for the project.
"I could only assume it's because I am outrageously handsome that the director and vice president of the Tech Access Initiative at the time, along with the other powers that be, decided that I would be a great representative for the organization," he says. "On a more serious note they recognized my passion for technology and accessibility, and wanting to share my mission with the world."
What's Next?
Rhonel's involvement with the Tech Access Initiative from the United Spinal Association didn't stop there. "I also had the privilege to represent the United Spinal Association at the HIMAA Health Conference in 2022." And when it comes the technology he uses in his daily life, his top devices are a tie between the iPhone 13 and the Amazon Echo Show 8. "Both devices have their respective AI and voice control features. With them I can control aspects of my environment like the lighting and the temperature and communicate with my friends and loved ones. Plus they are both great to use as music playing devices and to listen to my favorite podcasts."
Rhonel's ultimate employment dream however is to become a UFC commentator, as he has been a huge fan of the sport for years. "Personally I think I could give Daniel Cormier, Joe Rogan and Jon Anik a run for their money, but for right now I'm working on using my platform and my voice to continue to advocate for wheelchair-users and other individuals with disabilities to be given equal access to both the physical and digital world (and hopefully attract more listeners to my podcast and be offered a lucrative contract by one of the major podcast platforms)."
As he looks to the future, Rhonel says he'd love to have a family. "Ever since I was a child looking up to my parents, I always wanted to become a husband and a father and even though my circumstances are a bit different than what I originally imagined, I feel like they are both still in my future." "I have yet to find the perfect woman to join me on my adventures," he adds. "If you ask me I'm just a normal guy who just happens to be extremely handsome and uses a wheelchair to get around."
— Rhonel's podcast: https://rampituppodcast.buzzsprout.com/
— Follow Rhonel on IG: https://www.instagram.com/mr_gramici/