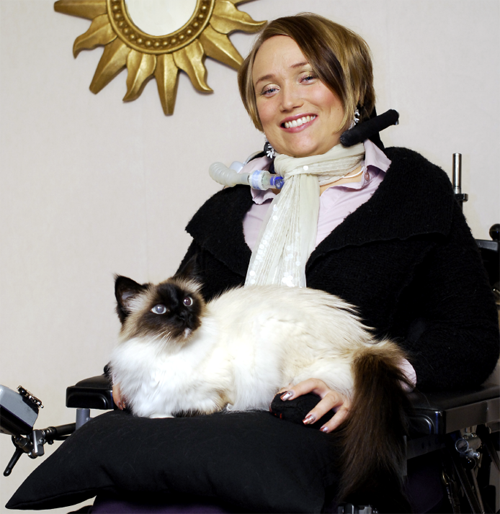 "A will of steel," business owner and a certifiable cat lover are just some of the words use to describe the gorgeous Nina Muhonen, a 35 year old C1-2 quadriplegic from Sweden. She may be the most active vent-quad you'll ever meet.
She wears so many hats – entrepreneur, business owner, photographer, radio host, speaker, published author, Nina's determination to not let her injury sway her life goals has earned her the respect of millions of Swedes, and many more around the globe.
Why she's fearless
It was in 1996 when Nina's life took a very different path. She was on vacation in England and dove into an artificial lake, breaking her neck and nearly drowning. She spent nearly one year in the hospital. However, in the hospital Nina was determined to fight hard and not let one day dictate the rest of her life. She still wanted to graduate and live her life fully.
Before her injury, Nina wanted to be a lawyer, but after her accident and everything she went through, she became more interested in studying psychology. Nina went on to university and received her degree in psychology. After graduation, she became a behavioral and cognitive therapist, but that wasn't enough for this determined woman.
Being in need of a caregiver full-time, Nina also decided to start a caregiver company, Nina's Team, where she has the tricky task of running an agency and needing it's services at the same time.  She also started her own speaking company called Life Spark (Livsgnistan), where she gives lectures and creates customize projects on the topic of caregivers and personal assistance. Check out a PCA transfer video she made 
And having fun too, enjoying food and wine is another thing Nina loves. She's a regular guest on a radio show in her town of Vastmanland , "Food for Thought." She's also the author of the book, If Only I Go Home, her autobiography spanning her life before and after her injury. Read more about her book (Note: It's only available in Swedish)
What's next?
Most recently, Nina has also become one of the faces of the amazing new technology from Tobii ATI – eye tracking for computers.  A great way to use a computer for those who can't use their arms. No longer does Nina have to move her neck constantly to use the computer. Check out her Tobii PCEye profile
Nina's determination and strength post-injury definitely reminds me a bit of myself.  I would love to meet her. And now I sorta can virtually, thanks to her now using the Tobii PCEye. She started a blog, where she shares her life adventures, as well as her digital photographs, showing the beautiful world in which she lives. Love her zest for life.
Check out her site: Nina Muhonen
Have you read Nina Muhonen's book?
Watch her videos
– Nina Muhonen interviewed right after her injury while still at the hospital
– How-to transfer video produced by Nina Muhonen's PCA agency