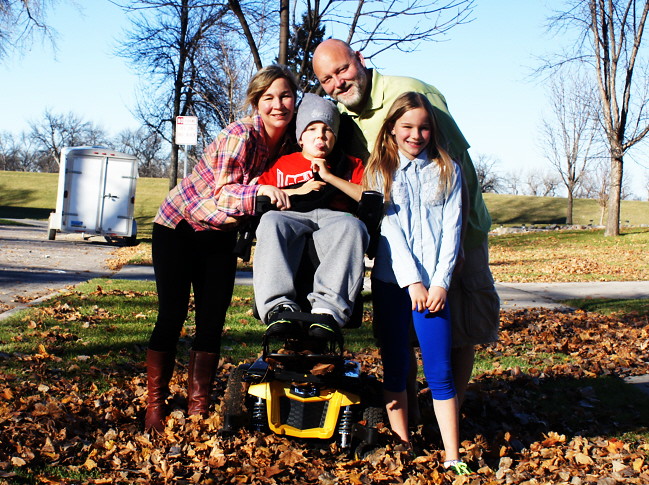 Luke with his parents, and his sister Jillian.
A 10 year old from Grand Forks, North Dakota, Luke Riley is relatively new to living with a spinal cord injury, but he hasn't let that stop him from being the sticking-out-his-tongue fun loving kid that he is. Whether it's playing floor hockey or playing with his neighborhood friends, Luke and everyone in his life, from his friends to his family, show the world exactly how children with spinal cord injuries should be included. Read on to see exactly what we mean.
Why He's Fearless
Luke with his neighborhood friends.
A fateful day in January of 2015 changed Luke's life forever. While sledding with his neighborhood friends, he hit a snow fort that he and his friends built and broke his neck at the C5-6 level. After his injury, the entire Grand Forks community came out to raise money for him, raising thousands of dollars.
His mother Maureen is also physical therapist. While she never imagined her son would become a quadriplegic, she was prepared. "Luke is pretty much a textbook C5-6 quad," she says. "He is strong in his shoulders, has some triceps and very little finger function, except some L thumb," she adds. "He also uses a powerchair and goes as fast as he can."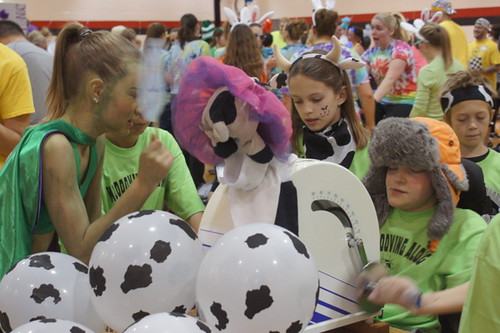 Luke handcycling at the Spin for Kids fundraiser that raises money for children with special medical needs. Last year Jillian's team was the top dollar raiser and Luke's was 3rd.
After his injury and returning home, his entire family, including his older sister Jillian, worked hard to help him get back in the swing of things. His neighborhood friends also worked hard, including Aria (who was in the winning photo), to stay in his life.
"My greatest fear following the weeks after his injury was that Luke would be alone and lonely. HA! He is surrounded by friends almost all of the time!" says Luke's mom. "It's amazing. I love this group of kids so, so much. We are grateful every day for them, especially Aria and Alex, who are Luke's two closest friends. They play together every day and it is the best!"
What's Next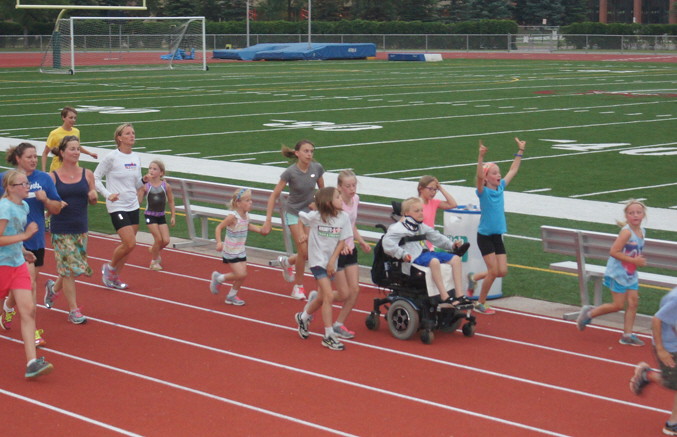 Luke with his friends and family in a fundraiser run shortly after his injury.
Luke has transitioned back to a "normal" life like a champ, too. He says making friends after his injury has been "easy," and he's a huge fan of having a fearless attitude. "You have try different things to see if other things work better for you!" he says. "If you can't do it, ask for help and eventually you will be able to do it yourself."
Speaking of, Luke just tried a new sport. "He tried tried sled hockey for the first time a few weeks ago and really enjoyed it. Hockey is HUGE around here," says Maureen. "He also did his first 5k this year: Partially in his manual chair and partially in his power chair. It was awesome!"
"Luke has always been really diplomatic and a great observer as well," she adds. "He often officiates the games at school and really likes that. He plans to be a lawyer and judge one day. He can find a loop-hole in any argument and is a master negotiator." We love your career goal Luke!
As for advice for other parents with children injured at a young age, Maureen has this to say. "Remember that every child is different and that it is THEIR life, not yours," she says. "Also, give them choices as you are able and empower them to be their own advocate if possible. And try to find joy in everything. Look for it and you will find it! Luke has taught US so much. He rarely complains and focuses on his strengths instead."