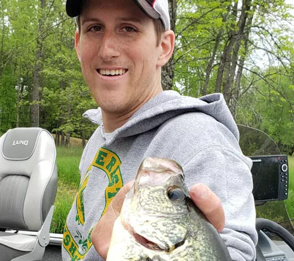 The great outdoors is where Kevin Churkey, a C6 incomplete quadriplegic, feels the most comfortable. A lifelong hunter and fisherman since the age of 8, his spinal cord injury was no match for his love of these sports. He just had to tap into his engineering mind for some DIY creative solutions, and the rest was history. Read on to see how he continued following his passion.
Why He's Fearless?
Growing up in Central Wisconsin, many young men learn how to hunt and fish with their fathers, and that is exactly how Kevin, who's now 32 years old, discovered his love of the outdoors. "I would fish out of the pond at a campground as a young boy. And as I got older, at age 12, we start to go bow hunting," he says.
After graduating from high school, Kevin studied mechanical drafting & design at Northcentral Technical College. Sadly, in 2016, he broke his neck after diving into a shallow pool. There was never a doubt in his mind however that hunting and fishing were no longer possible. He just wasn't sure exactly how he was going to make it happen.
"It wasn't the fact of not being able to hunt, the concern was how. With my personality and will to do something, 'no' was not an answer." He first decided to first do some research, namely YouTube, where he watched and observed other disabled hunters. "I would see what others are using pull small bits from one individual, some from another and create whatever device to fit my needs."
Kevin, who mainly hunts deer and turkey, has limited finger movement (around 40%) and lack of grip. He created rests to hold his gun and crossbow. "For starters, I had to get a crossbow because I couldn't pull back a compound bow. I have to use a rest to hold my gun/crossbow but I tweaked one that clamps right on to my wheelchair so that I am still extremely maneuverable in my ground I built from wood."
Another tool that makes hunting possible for Kevin is having a tracked wheelchair. "That has been a game changer," he says. "It allows me to get in and out of the woods independently." For those who are interested in buying a tracked wheelchair, they are expensive, but there are many who've fundraised for one successfully using sites like Gofundme.
What's Next?
Kevin has experienced adaptive hunting with an organization he would love to recommend, the Wyoming Disabled Hunter's Organization, located in Cody. "This is a top notch organization that offers elk, antelope, while tail deer and mule deer hunts. The guides are outstanding and they have everything you need to get out there and hunt."
And in 2019, he went on a hunt with Empowered Dream Hunts, a nonprofit located in Wisconsin, where he shot a 13 point buck. They offer tracked wheelchairs for those who take part in their hunts. You can learn more about them here: https://empowereddreamhuntsinc.org/
And perhaps one of the coolest things Kevin is doing, other than returning to what he loves and getting married in 2019, is creating videos showing how hunting and fishing is still possible, like how he uses an ice auger on a frozen lake or how he gets in and out of the woods in his tracked wheelchair. "Feel free to reach out to me through YouTube/Instagram," he adds. "I can help give ideas on how to get back out in the woods and I'm an avid angler that spends a lot of time on the water."
More than anything, Kevin wants the world to know that just because a change in lifestyle occurs due to an injury, life isn't not over. "Yes, it will seem like its over at first but the one thing is to keep a level and positive outlook," he says. "Also, there are a ton of groups on Facebook and YouTube videos. They will give you ideas on how to get back out there. And there are several organizations that offer free hunts. Use them to start off with, to get an idea of what you need, and to discover what works for you."
— Follow Kevin on IG: https://www.instagram.com/kevinchurkey/
— Follow Kevin on YouTube: Churkey Outdoors