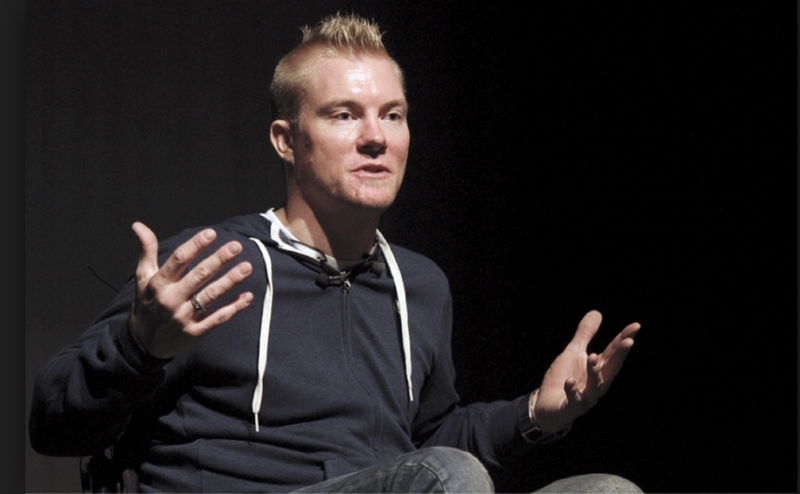 "I don't quit, you don't quit." This is the mantra of Kevin Brooks, one of the most memorable and well-known motivational speakers in Canada. Paralyzed in 2000  when he was just 21 years old, Kevin has gone on to put a silver lining on a bad situation, making a difference in the lives of the thousands who have heard him speak.
But becoming a motivational speaker didn't happen right away. Responsible for a car accident that not only paralyzed him from the waist down but killed his childhood friend, feeling motivated was the last thing on Kevin's mind the first couple of years.  He finally however met Rick Hansen, another well-known paraplegic from Canada, and his entire outlook changed.
Read on for Kevin Brooks' unforgettable story of unlikely perseverance in the face of paralysis.
Why he's fearless
Before his injury, Kevin admits he was one of those young guys who thought he was invincible, and he and his friends partied hard. One night after a long night of drinking, Kevin drove home under the influence and one of his best friends jumped in the car as well. They never made it to their destination. Kevin crashed the car while on the way there, becoming a paraplegic and killing his friend in the process.
Initially after his injury, he was lost. He could no longer walk and he killed one of his best friends. If it wasn't for the kindness of the parents of his friend who died, Kevin would've likely spent the first couple of years post-injury in jail. But that wasn't meant to be. In 2002, he met Rick Hansen, the famous Canadian paraplegic who pushed himself around the world in 1985, and Kevin's entire perspective shifted.
Kevin knew he wanted to make a difference in the world and not let his poor actions linger, making him full of regret, so he began to speak at elementary schools on the importance of wheelchair accessibility, disability awareness, suicide awareness, bullying and dangerous driving habits. His first speech was for a small group of elementary school students, and that was over 10 years ago.
Since beginning his speaking career (which is now a fulltime job), he has spoken at over 700 schools and army bases around the world, challenging the audience to view him as they would anyone else. He has become so popular in fact with high school students that they started a Facebook Group to discuss how he's changed lives.  He's also been on the Tyra show on NBC as part of his speaking duties..
What's next?
Still jet-setting around the country to speak nearly every week at various schools, Kevin recently rounded up a series of speeches out in California.  He also keeps busy with two of his passions in life – live music and WCMX – the art of wheelchair skateboarding. While he never made it as a Paralympian despite being a young, strong paraplegic, Kevin channeled his strength into more important things, like speaking, and the world is definitely better for it.
Have you heard Kevin speak?
– Visit his site: KevinBrooks.ca
Watch the videos!
– Kevin Brooks Speaks to Harwood Students
– Kevin Shreddin at the Cloverdale SkatePark
– Drunk Driving speaker Kevin Brooks doing Vancouver News
– Youth Prevention and Motivational Speaker Kevin Brooks Promo Video