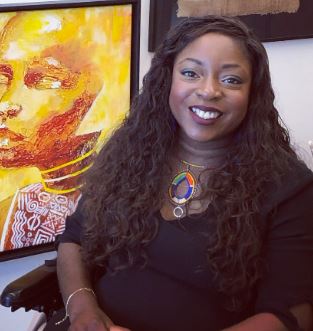 From creating beautiful oil paintings to helping people through anxiety and depression, Nigerian-born Kemi Yemi-Ese is one impressive human being. Paralyzed in 2006 while an undergraduate at Baylor University, Kemi had to pivot her life plans. Now a licensed counselor and a respected visual artist, Kemi's injury has allowed her to hone in on all of her God-given skills and she is making the world a more beautiful place inside and out as a result. Read on for her story.
Why She's Fearless
Kemi may be a Texan, but she is also Nigerian. Moving to Texas as a child, she is from a country where being a doctor or lawyer are highly-revered careers, not an artist. Although enjoying art, Kemi decided to become a medical doctor after high school and went to study neuroscience at Baylor University.
Unfortunately, Kemi was involved in a car accident while driving home from a friend's while she was an undergraduate at Baylor. When she put on her brakes to avoid a car swerving into her lane, her car rolled, and Kemi broke her neck at the C6 cervical level. She was sent to TIRR Herman Rehabilitation Hospital in Houston.
It was at this time when Kemi's boss visited and gave her a box of crayons (which she keeps in her studio till this day), as well as a sketchpad. Although she could barely hold anything, this was the beginning of her artistic abilities. Kemi figured out the best way to hold a crayon, and soon she was painting portraits for family and friends.
It took 3 years, but Kemi eventually felt confident enough to begin doing commissioned art. One of the very first paintings she created was "Lost Signals," which showed a disconnection from the brain to the body with a gray figure emerging from a gray background, and with an old style television as the head. She also did a series of realistic paintings of wheelchair pin-up girls to benefit the Ms. Wheelchair America Foundation.
And Kemi decided to refocus her studies. Before her injury, she was studying to become a medical doctor, but this was no longer something she wanted. Instead, she decided to study psychology. After graduating from Baylor in 2008 with degrees in Neuroscience and Studio Art, she attended Texas Tech University Health Sciences Center for study for her masters degree in clinical rehabilitation counseling, which she received in 2018.
What's Next?
Before becoming a licensed counselor in 2018, Kemi was busy. She won the title of Ms. Wheelchair Texas 2010 and advocated for disability issues around Texas for a year. She also went on to become a well-respected artist in Texas and beyond. Focusing on oil and acrylic mediums, Kemi creates art pieces inspired by her Nigerian heritage. She also paints contemplative portraits that explore her culture.
"I am known for creating paintings and collaged imagery on canvas, papyrus, and wood. My works, whether naturalistic or surreal, explores West African mystical traditions, womanhood, and the complexities of living with a disability. My approach to portraiture and use of West African ideographs is what sets me apart from other artists," says Kemi about her art.
Her pieces can be found around Texas. In 2019, her work was shown in an exhibit at Austin City Hall and her work is currently on-display at the Georgetown Library in their Georgetown Cultural Citizen Memorial Association Black History Month Art Exhibit. It can also be seen at the Art Spark Texas community exhibit space at the Austin Lighthouse for the Blind.
If you want to see other inspiring women like Kemi, click here (). In 2022, Kemi was chosen to be part of Raw Beauty Project Health, a photo exhibition highlighting strong woman with disabilities advocating for equality in healthcare.
A woman who follows her heart's desire, Kemi is a shining example of moving past grief and living your truth. She continues to work as a fully-licensed therapist in the Austin-area, specializing in stress, anxiety and childhood trauma.
— Visit her site: Kemi's Art
— Watch Kemi give a tour of her studio