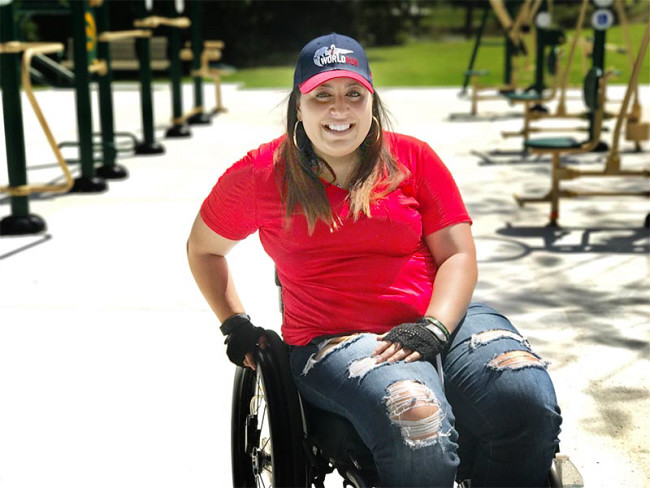 Jessika Kattah De la Torre is one woman on wheels you'll never forget, but it's not because she uses a wheelchair. With a personality so big it eclipses a room, this Florida–native loves life and is passionate about everything she does. Health issues however have followed this fierce woman since she was a teenager. A spinal cord injury is just one of the health issues she's had to fight through.
What we love about Jessika is that she hasn't let these issues stop her from having the passion for life she's always had. Always a huge fitness fanatic, she's still one till this day. She's also found new passions since her injury, from the fun – indoor skydiving – to the serious – spinal cord injury research advocacy. Read more about Jessika's ongoing journey below.
Why She's Fearless
At the age of 14, doctors found a benign lipoma tumor on her spine. Fortunately, they were able to remove it and she was tumor–free, without paralysis, for 12 years. At the age of 26 however, the tumor returned returned, and this time she became paralyzed after she underwent another surgery to remove it. Although after a few months in rehab she was able to walk out of the hospital using a walker, the tumor returned again. She is currently a full-time wheelchair user with a T2 incomplete injury.
As one can imagine, the ups and downs of having a tumor can be taxing, but this former "gym rat" is tough. She now has two passions – raising awareness for spinal cord injury research and adaptive sports. It began when Jessika signed up for Red Bull's first Wings for Life World Run in 2014. She has participated in this awareness event since it's inception and is one of their official Ambassadors.
She's also discovered adaptive fitness parks that are around the Ft. Lauderdale, Florida-area where she lives. She loves making videos showing how to use these parks from a wheelchair. "I never give up," she says and you can especially see this in her videos.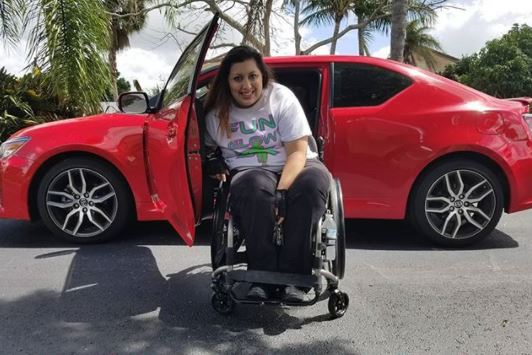 Jessica, now 31, has also discovered the freedom of adaptive SCUBA since her injury, as well as adapted surfing and indoor skydiving with iFLY Ft. Lauderdale. She can be credited for helping spread awareness of indoor skydiving for wheelchair-users throughout Florida.
What's Next
Most recently Jessika decided to switch gears. She met another paraplegic after her injury, Rey, and they fell in love. An adorable love story, Reinaldo and Jessika share their adventures together on her Youtube channel here using the hashtag – #ItsThatWheelKindofLove.
They share everything from how they travel together, like packing two manual wheelchairs in the back seat of a car, to their adventures around Florida, whether they're surfing, going on a day-trip to Saint Augustine or to a friend's wedding. They even went to Spain just a few months ago and made several videos on international travel. We can't wait to see what they record next.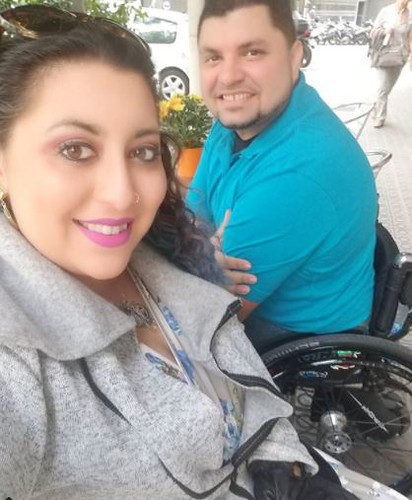 Jessika also speaks about her injury, spreading awareness on the importance spinal cord injury research whenever she can. She is a true soldier in the SCI army and we are grateful for all of the goodness she's infusing into the community.
How do you find a new passion after a SCI?
Watch Videos of Jessika
– #ItsThatWheelKindOfLove – Episode 5 – Adaptive Surfing
– iFly – Fort Lauderdale Indoor Skydiving All Abilities Night
– Jessika speaking at the International Association of Rehabilitation Professionals
– Woman On A Roll To Find Cure For Spinal Cord Injuries – CBSMiami
– Adaptive Fitness Trail at Vista View Park in Davie, Florida