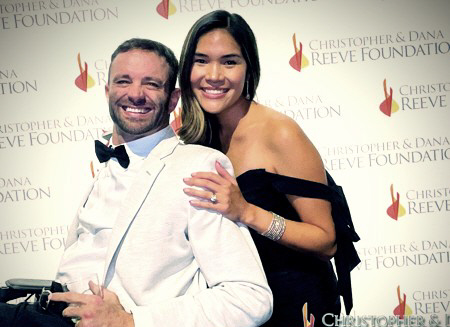 by Tiffiny Carlson, Executive Director of SPINALpedia and longtime disability writer
A spinal cord injury can mentally crumble you or it can challenge you to greatness, and the latter has definitely been the case for Jerod Nieder. Paralyzed since 2011, he's been on a mission to uncover the healing that's possible after a spinal cord injury and is a participant at the University of Louisville at Frazier Rehab, the birthplace of epidural stimulation.
Read on for some of the most fearless determination we've ever seen.
Why He's Fearless
A quick dive in December 2011 after arriving with his family to their favorite Mexican resort is all it took for Jerod's life to change forever. Diagnosed a C5 complete quadriplegic and given a grim diagnosis on the prospect of his mobility, he was on a mission to prove his doctors wrong. He was 28 and determined to be in control of his future.
After Jerod and his mother scoured the web and beyond for treatments that could help him, they came across the spinal cord injury research happening at the University of Louisville, spearheaded by Dr. Susan Harkema, that was making waves across the world and still is today for their epidural stimulation that has helped people with complete injuries regain movement in their paralyzed limbs.
After physical rehabilitation and returning home, Jerod was determined to become a participant at the University of Louisville's research program, but he wasn't accepted right away due to a spinal anomaly. The wait however was not long. After a handful of months, Jerod was accepted and underwent surgery in October 2015 for the epidural simulator. He is one of the only 38 people in the world that has an epidural simulator implanted in their body to treat their spinal cord injury.
Although participants are not able to walk completely on their own and tossing their wheelchairs in bonfires or anything epic like that, for people like Jerod, they've seen some life-changing improvements in strength, bowel/bladder, sexual function, spasticity and their overall health. He was even able to take up hand cycling in 2019 and completed the New York City Marathon last year (with no e-assist). For a C5 complete quadriplegic, that is a massive feat.
His personal life has also been pretty noteworthy. After falling in love with his full-time caregiver Hanna, and dating for several years, they were married in 2022. She's helped motivate him in multiple ways and they are one of the most uplifting interabled couples on the planet.
What's Next?
A lifelong athlete before his injury, it's only a natural Jerod is now also an adaptive fitness instructor. His classes are titled "Positively Fit After Paralysis" and he instructs people who use wheelchairs various ways to exercise and build up their cardio and muscle strength. Filmed in his beautiful downtown condo in Louisville, he invites his wheel-friends to join in and they can be seen in his videos.
And that's not all. Jerod shares his everyday life on his social media (mostly videos) showing the world what's possible after a spinal cord injury, from cute things he and Hanna do in their relationship to personal care how-to's, like his night-time routine. Jerod couldn't have named his socials, "Positively Paralyzed," any better.
Now living life his on his own terms 10+ years after becoming paralyzed, there's no question Jerod's mission is in high-gear, and we can't wait to see what life and neuro return Jerod experiences next.
— Watch Jerod's fitness videos