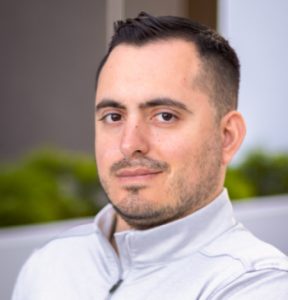 A Cuban immigrant as a young child who went on to embrace the US as he grew into a young man, joining the Air Force, Ignacio Montoya is one of the fiercest spinal cord injury survivors we've witnessed. He's been on a mission to find a cure for paralysis since his injury and how far Montoya has gone since his injury to make that happen is astounding. Read on to see the work he's done to achieve one of the loftiest goals in medicine.
Why He's Fearless
Montoya's early years are undoubtedly the reason behind his inner-strength. After losing his mother at age of 4 to cancer while still in Cuba, he and his family immigrated to the US when he was 6 years old (after winning a visa lottery). Landing on US soil was a moment he'll never forget. "I remember everyone cheering after we landed," he says.
As he grew up in Atlanta, Georgia, Montoya grew to love the country he immigrated to, and when he was old enough, he joined the military, and the Air Force, and had his sights set on becoming a fighter pilot. Montoya made it to the Air Force ROTC program at age 18 after finishing his first semester pursuing a business degree at Georgia State University and dually enrolling at Georgia Tech for their military officer training program.
Just when his dreams of becoming a fighter pilot were in reach, Montoya's world changed when he was involved in a motorcycle accident in 2012 after a minivan crossed into his path. Montoya was 22 years old and diagnosed a complete paraplegic from the thoracic level spinal cord injury (from the chest down) but functionally was categorized as a quadriplegic because of a secondary peripheral nerve injury he sustained in the same accident to his right arm which completely paralyzed it causing the most unbearable and extreme neuropathic pain imaginable.
He has full sensation of since his lost of movement, function, and sensation from the spinal cord injury didn't occur till T4 but this peripheral nerve injury occurred to the right peripheral nerves that branch out of the cervical spine on his right side. Despite being told he only had a 1% change of recovery, he refused to believe his diagnosis and instead began his mission to find a cure for paralysis.
Montoya's first step was to become the executive director of Project Walk Atlanta in order to learn as much as possible while at the same time receiving therapy as his compensation. He then went back to Georgia Tech for a Masters in Biomedical Engineering so that he would have a degree and the educational background to start performing his own scientific experiments. He graduated with a 4.0 GPA and was recognized and commended for his achievements by the Georgia House of Representatives in House Resolution 301.
For his Biomedical Engineering Masters Thesis, he developed and created a protocol of walking on a Lokomat 4 hours a day, 5 days per week, for 12 months for a total of 655 miles – more than 13 marathons. After this noninvasive aggressive exercise program of using a Lokomat with 100% weight bearing despite originally being diagnosed a complete injury, then he had multiple ASIA tests done that categorized his injury as ASIA B, meaning he now had new sensations and the ability to go to the bathroom on his own.
Then after doing all of this, Montoya flew to Chicago to sneak into an all medical providers conference since he now had a Masters in Biomedical Engineering. They let him in and this is where he met Dr. Edgerton who invited him to go to Los Angeles to begin the most aggressive and longest clinical experiment possible (utilizing a transcutaneous electrical stimulator) to demonstrate to the scientific world what is possible in reversing paralysis and all of its secondary effects. Montoya is now able to walk with help from an exoskeleton as part of the trial. 
What's Next?
Along the way, Montoya co-founded the Healthcare Institute for Neuro Recovery and Innovation, aka HINRI, where he serves as the Chief Scientific Officer and Executive Director of HNRI Labs. This foundation is monumental. They study medical breakthroughs in paralysis, supporting the researchers and giving them the resources they need to get the job done. And he's pursuing his master's degree in kinesiology at Cal State to better understand paralysis recovery.
Now 32 years old, Montoya is living a full life in spite of his injury. He was married last year to the love of his life, Hilda, where he walked down the aisle in an exoskeleton (proving you can indeed dance in one, which he did with their first dance). And he is hoping to be part of NASA's future astronaut program to become an "accessibility ambassador" in space. Montoya is unstoppable. He may have suffered a life altering injury, but he has not let it take away his joy, his hope and most importantly his fight.
— Follow Ignacio on IG: https://www.instagram.com/frmflyin2walkin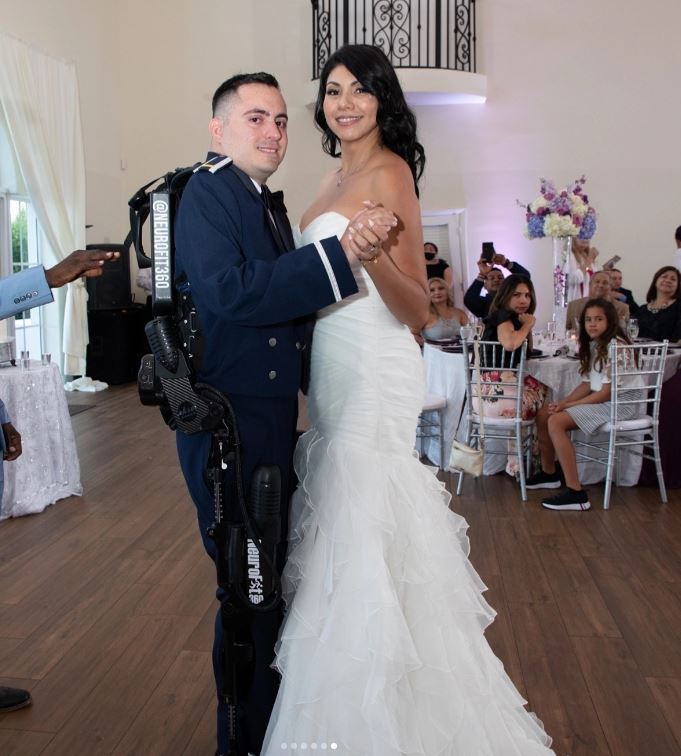 (photo courtesy of @hildatorres206)