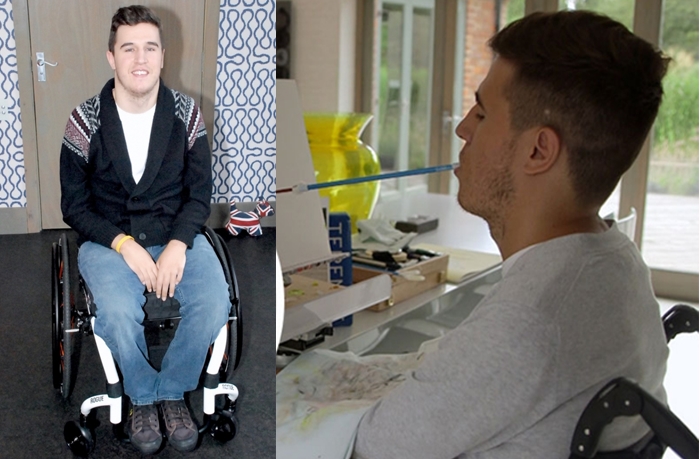 Some could say that 2015 has been a banner year for Henry Fraser. Injured in 2009, Henry has come a long way since becoming paralyzed from the shoulders down. Now 23, this former rugby player discovered painting – watercolor painting to be specific – and has skyrocketed to fame thanks to his paintings of famous athletes.
But mouth painting isn't everything he does, although his 31 thousand and counting followers on Twitter might have a thing or two to say about that. Also a rising inspirational speaker, Henry has turned his injury into something much bigger than himself.
Why He's Fearless
It was while on holiday in Portugal when he was 17 years old when his entire life changed. Playing on the beach with his buddies, he decided to dive into an area of water nearby, but like so many before him with spinal cord injuries from diving accidents, he misjudged the depth. Henry broke his 3rd vertebrae, and couldn't move anything but his head to get his friends' attention.
Fortunately, his friends noticed something was wrong and pulled him out. Henry was airlifted to the UK to complete his rehabilitation and in 2010, he returned to school to finish up high school. Since returning home, he has been working hard on increasing his strength, even being able to lift 40 pounds with just a few back muscles. Henry has put 110% into his rehabilitation.
And while he was in rehab to battle boredom, he began painting with his iPad; a simple app to pass the time, but he soon discovered he loved painting; something he enjoyed when he was younger as well. To paint, Henry uses angled brushes with a rubber piece at the end so the brushes are easy to hold his mouth, and he uses a special stylus and easel. His preferred medium is watercolor, since it requires less mixing.
Since discovering painting this year, he's attracted the attention of several celebrities after painting their portraits, including David Beckham who he was able to meet.  Henry has also made portraits of Tour de France winner Chris Froome, Roger Federer, Harry Potter (with a shout-out from JK Rowling), Thierry Henry and Olympic runner Usain Bolt.  And big news giants like CNN and The Telegraph have shared Henry's story with the world this year.
What's Next?
But painting isn't everything he's doing. Henry discovered that he's a powerful public speaker. In his speeches, he focuses on the positive and talk about what is still possible, instead of focusing on what is no longer possible. One of his famous quotes, "If you just lie there and don't accept, you don't move on and adapt and get on with life and you just waste energy hoping things were better" perfectly encompasses his positivity.
Henry gives speeches to schools, businesses and rugby clubs and plans on giving many more in the future. His bright attitude is always needed in the spinal cord injury world. Also an ambassador for Lecky, the Matt Hampson Foundation and the UK Stem Cell Foundation, Henry proves you don't need anything more than a serious drive in life, not a working body, to get things done.
Have you tried mouth painting post-injury?
– Visit his site: HenryFraserArt.com
– Follow him on Twitter @henryfraser0
Watch the videos!
– Paralyzed man paints with his mouth
– Meet Henry Fraser – the inspirational paralyzed mouth painter
– My talk