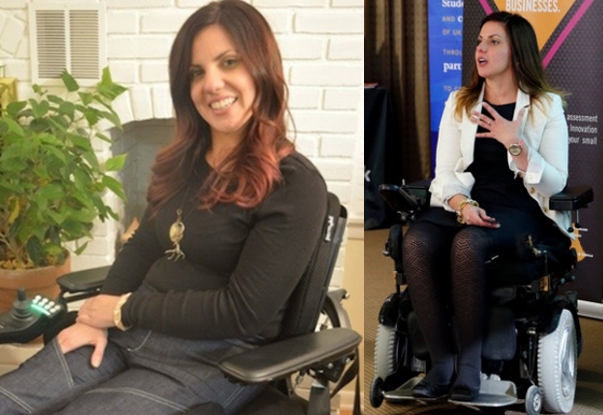 The latest wheelchair fashion designer to throw her hat into the ring, Heidi McKenzie is unlike any other wheelchair designer of there. A paraplegic since her early twenties, Heidi has owned being a woman with a spinal cord injury, competing in Ms. Wheelchair America and now her latest venture – becoming a business woman -since her injury.
But her latest venture, creating customized wheelchair clothing, is what has launched her into fame this past year. From appearing on local media to being profiled on some of the biggest websites online, Heidi's grand "coming out" last year with her brand (which included a successful Kickstarter campaign) has been phenomenal.
Why she's fearless
Heidi's story begins on a foggy curvy road in 2007 when she was 21 years old. Home was far way in Mount Sterling, Kentucky, and she was in Ohio, driving on a road she wasn't familiar with. She hit a big curve and hit a tree, breaking her back at T-4, as well as her arm in several places (which required metal plates to heal).
Heidi spent 3 months in rehab, and was discharged to begin her new life; but she was lost. She had been planning on going to college to study fashion merchandising before her injury, but now that she was a paraplegic, she didn't think the industry was for her. Would she be accepted? Would she be able to travel around the world as a buyer?
Instead, she went home to work for her father's concrete company as a bookkeeper, which she did for five years, and it wasn't until 2012, five years after her injury, when her entire perspective shifted when she ran for Ms. Wheelchair Kentucky. Winning isn't what changed her, it was going to the Ms. Wheelchair America pageant that did.
At this pageant, Heidi met dozens of other women in wheelchairs she could relate to, and it was here she finally realized she wasn't alone in her struggles. She heard over and over again from her fellow contestants about their fashion struggles, and that the clothing options out there weren't as great as they'd like. After coming home from the pageant, she was forever changed.
What's next?
Heidi may not have won Ms. Wheelchair America that year, but she won in a much bigger way. She was inspired to return to fashion, and the first garment she wanted to tackle – jeans. She named her company Alter Ur Ego, helping people with disabilities show their true selves.
Her jeans have a slight stretch, a high back and come in custom lengths. They're also available for both men and women. And they have two other ingenious design elements – thigh pockets and a tummy control panel, helping wheelchair-users both look slim and get to things they're carrying easier. You can see the full breadth of her jean design here
And in August 2015, Heidi had a hugely successful Kickstarter campaign for her company, funding her company so they can start taking jean orders by September 25th, 2015. To put your order in, visit the link to her store below.
It's always a beautiful thing whenever someone with a spinal cord injury returns to doing something they loved before, but with an even more fervent passion now. It gives you hope that what truly does move on and that wounds can heal, which Heidi can certainly attest to.
Will you be pre-ordering a pair of Alter Ur Ego jeans?
– Visit her clothing site: Alter Ur Ego
Watch the videos!
– Lexington Fashion Collaborative: Meet Heidi Mekenzie
– Heidi McKenzie Preview | Connections | KET
– Patient Heidi McKenzie talks about living an active, independent lifestyle as a paraplegic patient