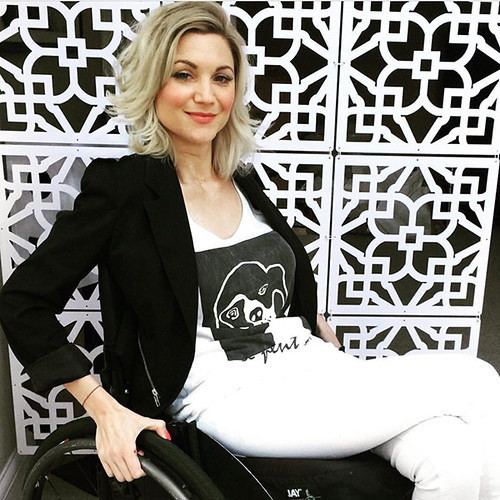 Helping women feel beautiful has been Heidi Herkes' world since beginning her career in the beauty industry over 15 years ago. A former high-end bridal beauty business owner from the UK who traveled worldwide for her job, she's been working hard to forge a new career for herself since her injury, and she's successfully done it.
Heidi has refused to allow her injury to stop her from following her passion in the beauty industry. She can't use her hands the way she used to as a C6 quad, which has forced her to think of new ways to share her talents. She's transitioned from a wedding beauty consultant to a personal stylist and we can't wait to see where her new career direction takes her.
Determined, beautiful and stronger than she's ever been before in her life, read on to see how Heidi has proven no match for a spinal cord injury.
Why She's Fearless?
A Londoner and a graduate of King's College, Heidi worked over 15 years in the beauty industry before her entire world was changed. Doing beauty consults for brides in cities like Sydney, Dubai, Auckland Berlin and throughout the United States was a great gig. But then in 2014, a freak accident occurred. Heidi became paralyzed after falling down a flight of stairs while overseas.
"I had to rethink my approach to life and work completely," she says. "Not only did it have a resonating effect on my life at the time, it also showed me first-hand how enormous an impact it had on the way I looked and felt. My confidence and self-esteem were at ground zero. I was faced daily with the difficulty of not being able to express myself as the woman I once was."
After taking over a year to recover, she began to think about returning to the industry. Heidi thought about how she could utilize her skills in their best way, and she brilliantly thought of becoming a personal fashion consultant for women of all sizes, shapes and backgrounds. "I soon realized that despite the accident, this was something that resonated deeply with me and was something I wanted to pursue."
As a result, Heidi launched her new business, Heidi Herkes Personal Style Consultancy, in October 2016 and she is one of the few, if not the only, personal style consultant with a SCI in the world.
What's Next?
Heidi offers her services to all, AB and disabled, and she styles a wide variety of sizes. Her style consultancy involves a fun three step process: #1. Personal style session. #2. Wardrobe styling session, and #3. Personal shopping and styling session. For anyone who could really use fashion advice from experts, you can't get better than this. She'll even give you a color analysis.
Since launching her business, Heidi has helped dozens of women feel more beautiful, including Jemima Green, a newly injured woman and horse lover who partook in a glamorous photoshoot with the help of Heidi as her stylist consultant. See the photos and read how Heidi impacted Jemima's life here: The Beauty of Wings
Heidi has stayed true to herself in spite of her SCI. Whether she's traveling the world when she's not working with the love of her life or simply dreaming up her next big career move, we love her for her ferocious tenacity and wish her all the best.
– Learn more: Heidi Herkes
– Like Heidi Herkes Personal Style Consultancy on Facebook