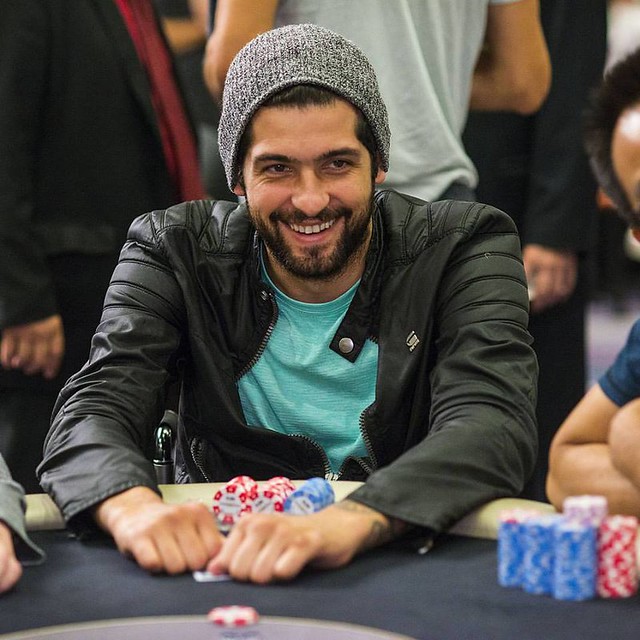 There are a lot of ways to make a living after a spinal cord injury, but Garrett Greer may have one of the coolest professions any quadriplegic has landed post-injury – a professional poker player, and since 2012 he's won over $3.6 million dollars.
He is 31 years old and a rising star on the World Poker Tour circuit, and a lifelong California boy currently living in Newport Beach who believes he was destined for the game. Long before his spinal cord injury he was already a diehard poker player, but Garrett's accident brought him back after a brief stint in the movie production world.
Driven and dead-set on changing the stinging stereotype that most people would rather be dead than be like him (and maybe win some big bucks along the way), read up on the rising star of poker, Garrett Greer.
Why he's fearless
Growing up in the sleepy town of Hemet, CA, Garrett was your typical young man dreaming of a bigger life, and he finally got his opportunity after graduating from high school, enrolling at UCLA. But he wasn't sure how he was going to afford tuition. Fortunately, when he started college it was also when the big poker boom was happening online.
After discovering poker through an old high school buddy, he returned to college and began to study the mathematics and strategy of the game, and he was hooked. And he began to win right away, both online and at casinos near home. He began to win almost $7,000 a week, which he would use towards tuition. He was working towards a degree in sociology, with plans to go to law school.
That is exactly what he was planning on doing, even scoring a 163 on the law school entrance exam. But Garrett had another love, the movie industry. He left poker to produce a short film called Hours Before in 2010 with some of his winnings, and he was thrilled about his future in the business, but in March, just one day after his first day as a paid producer, he broke his neck in a swimming pool accident.
Waking up as a quadriplegic, Garrett knew he needed to refine his career, and he found himself returning to poker. Almost a year later he began playing poker again online, and he began to win just like before. By the end of 2011, Garrett even made his first appearance in-person playing at the Hustler casino, winning $18,000.
By 2013, the poker world began to notice Garrett when he finished seventh at the World Poker Tour L.A. Poker Classic Main Event, winning $161,300. And in March 2014, he finished six in the Bay 101 Shooting Star tournament and won a cool $174,080. He won another $230,487 later in 2014 when he finished 32nd place in the World Series of Poker main event. And at the $10,400 No-Limit Hold'em World Poker Tour in December 2014, he won a whopping $1,169,683
April and June of 2016 treated him very well. He had two second-place finishes. One was for $458,722 and the other was at the Bellagio Casino in Las Vegas. He was playing in the $1,500 No-Limit Hold'em Millionaire Maker 1st & 2nd $1 Million GTD, winning $1,000,000 in a very tight game. "It was a life-changing amount," he says.
What's next?
Since his big win nearly a year ago, he has kept busy in 2016 on the pro-poker circuit, and he started a new venture – a TV and movie production company he founded with two friends, Greater Good Productions. Currently they're working on a documentary about Garret's life, and following him around as he travels and plays.
In January of 2015, he finished 17th in the PokerStars Caribbean Adventure tournament at the Atlantis resort, winning $79,400. Most recently he played the World Poker Tour in Montreal, and donated a portion of his winnings to the Life Rolls On Foundation.
Garrett also loves sharing his life on social media (which we highly highly recommend following). From sharing videos of his travels to his adventures with his fabulous girlfriend, Youtube fitness star Jessica Arevalo, his entire life is a giant motivational pill you actually want to swallow.
And we hope to see Garrett win another million-dollar jackpot soon. You have it in you, Garrett-boy. We believe in you.
Do you think playing cards is a great equalizer?
Do you think playing cards is a great equalizer?
– Follow Garrett on Instagram (@garrettjgreer)
– Follow him on Facebook Garrett Greer