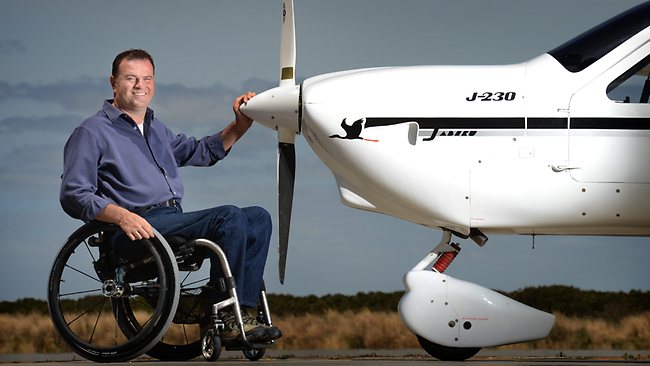 You often see plenty of paraplegics taking to the skies, but quadriplegics…not so much. That is why Dave Jacka is so special. He is the first quadriplegic to fly around the entire continent of Australia solo. But flying around Australia wasn't the first big feat he managed to pull off.
Read on to learn about this adventure loving Aussie descended from kick butt blood whose refused to let his injury stop him from enjoying the skies.
Why he's fearless
When Dave Jacka broke his neck, he was a young pup: 20 years old and a lover of adrenaline-fueled sports. As the third cousin to Albert Jacka, the first person in Australia to receive the first Victoria Cross (their version of the Purple Heart), in WWI, living big was in his blood. He loved riding his motorbike, which is how he was injured, when he broke his C5-6 vertebrae in 1989.
After his injury, it took him 10 years to get back the independence he wanted, but he got there, figuring out how to dress and transfer himself without any assistance. This attitude is why he's been able to do so much since his injury. Dave Jacka is no doubt a million times tougher than Crocodile Dundee.
Then the tough-guy (or tough lady) sport – quad rugby – entered Dave Jacka's horizon. After discovering the sport, he took to it so well that by 1996 he was a Paralympian, representing Australia in the Atlanta Paralympics. The team may not have won gold, but it gave him the confidence he needed to conquer a dream he's been fostering since 2006 – to circumnavigate the continent of Australia.
After learning how to first fly a plane using an amazing hand-control setup – he uses a Sip 'n Puff to throttle the plane and regular hand controls to control the rudder and brakes. Dave Jacka first made history flying a powered hand glider in 2006. That experience gave him the idea to fly around Australia, and fly around it he did.  He left in early April 2013, and landed on June 3rd, flying an amazing 16,000 kilometers in total, in his single-seater Jabiru J230.
To raise awareness for his historical journey, he dubbed his record-breaking feat, On a Wing and a Prayer. It took Dave Jacka an epic 38 days to complete the trip, with his team closely following in similar planes. He took off in April, finally returning to Toordin once more June 3rd. During the trip, he was in the air 6 hours a day, and at night he would speak at local schools and organizations on disability awareness in aviation.
He had one close call when he hit a windy patch flying near Queensland, when his plane went into a nosedive and he nearly crashed, but he was able to pull himself out of the nose dive completely on his own.
What's next?
Part of the contingent following Dave Jacka was his wife, Linda, a gorgeous blonde he met online whom he married a few years ago. The two have this epic romance. Linda simply couldn't resist his determination (other SCIers looking for a date; take note). An awesome passion in life, and someone to love him as much as he loves her, Dave Jacka almost has it all. Check out a picture from their wedding
Some of us may have not been born with the adventurer gene that Dave Jacka has, but isn't fun seeing someone with paralysis do it so well? Thank you Dave Jacka for showing the world what we are capable of. And if a documentary isn't in the works on his awesome aviation skills, it should be, and asap.
– Keep track of Dave Jacka's adventures on Facebook
Would you have the courage to fly a plane with adaptations?
Watch the videos!
– Dave Jacka on the Weekend Today Show
– Dave Jacka showing how he flies a plane using a GoPro camera
– Footage of Dave Jacka's landing after his 16,000 km trip