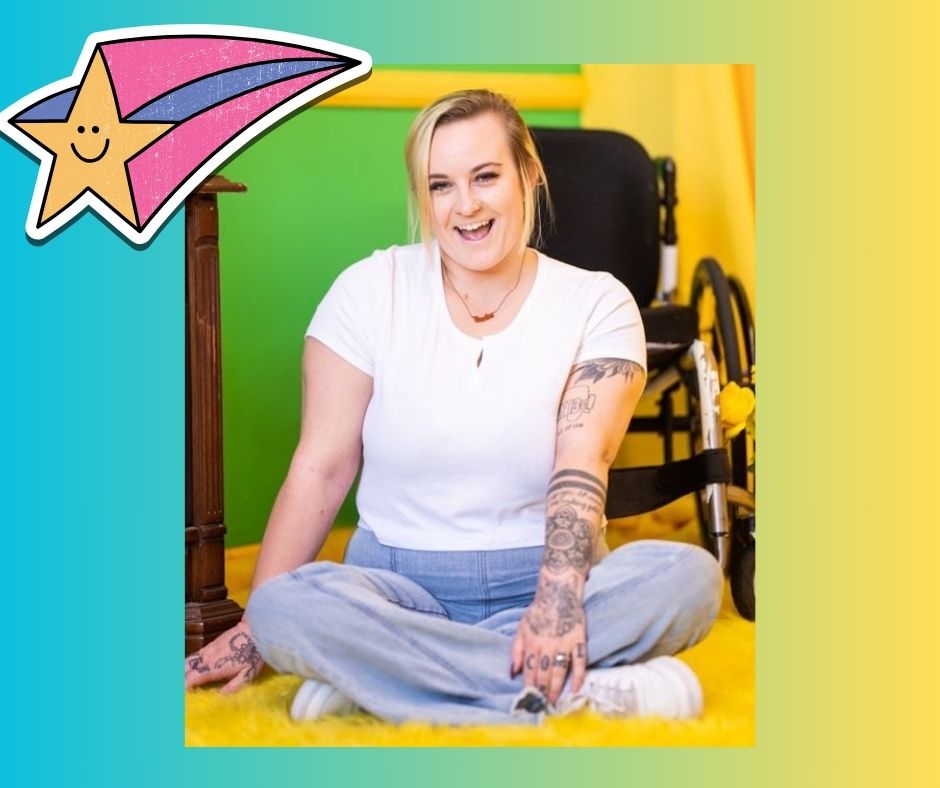 An athlete since childhood, Danika Whitsett's longtime love of sports has certainly helped her since her injury. From the obvious physical benefits to the awesome mental benefits, she is now thriving. In the 5 years since being paralyzed, Danika has become a dancer, a disability social media influencer and even made good on a career goal she had before her injury. Determined to describe her may be an understatement. Read on for Danika's story.
Why She's Fearless?
It's not easy growing up without a mother. That was unfortunately Danika's reality when growing up in Tri-Cities, Washington. Raised by her dad after the mother's suicide, she made a pledge when she was 4 years old to make people happy. "I made it my mission to never make someone feel crappy and to always be a shining light to everyone around me because I never wanted anyone to be sad like she was."
Danika went on to become a star volleyball player in high school. And after high school, she packed up and moved to Arizona for college, but in 2018, she was involved in a car accident during a long road trip with friends. "Our car collided with another car and we over-corrected and started rolling, and I was ejected into the median." Danika sustained a T12 spinal cord injury as a result.
"After I woke up from my coma, my first thought was that I was happy to see all of my friends and family. I honestly didn't think it was that serious and that I'd be walking again by the time I got out of a hospital." "When the doctor told me I'd never walk again I was thinking he was ridiculous for saying that lol." Danika said she had so much physical pain in the hospital that she wasn't able to address the emotional pain until she went home. But fortunately, she was able heal.
"Sports were such a huge part of my life growing up and honestly I think it helped that I was an athletic person because it helped with my arm strength and pushing my wheelchair. My dad always says as well, 'Can you do anything about it? Then why are we upset about it?' and I think honestly that helped me for a while when I first became injured because I was just feeling very grateful to be alive."
Danika healed thanks to the help of family and friends. She left college and went back home to Washington. When she was in college, Danika was studying event coordinating and business management, which is a field she decided to still pursue after her injury and leaving school. Danika is currently the event coordinator for Childhelp, a nationwide nonprofit.
"I help book events in each market that I'm in, so I work with each business to see if we're able to come out and spread awareness with them while also raising supplies for the foster kids in each community at these events. I work from home so it is very accommodating to my needs. I basically make lots of phone calls per day." She has several more jobs that keep her busy as well.
Danika also moved to California after her injury to San Diego with her longtime partner Dom, whom she first met in 6th grade. "Dom and I were actually each other's first kiss in the 6th grade! We remained friends throughout life because I went to school with his cousins, but we didn't reconnect until after my accident and we started hanging out again about 2-3 years after my accident and he was just such a great friend and it felt super natural to be around him."
When it comes to dating after a spinal cord injury, Danika says you should find someone who doesn't make you feel disabled. "He never once made me feel bad for taking apart my wheelchair, accidents, or anything regarding my disability. He continuously supports me and loves me for me." The duo next plan to move to LA in January 2024 to further their careers.
Danika also found a new passion after her injury – dancing – which is something she never did pre-injury. When her dad showed her a video of Cheslie Hill, founder of the Rollettes, a wheelchair dance team, dancing with her squad, she was sold. "I was really trying to find community and girls who were around my age and in the same situation. I was like omg I haven't danced before but I always wanted to and I wanted to be a part of it! They held an audition the following January and I knew I had to apply because I was already planning on moving to San Diego."
Danika made the team but says she was intimidated because she had to start from square one. "The girls have been so encouraging and helped me practice so much. I've come so far since I started with the team last year." Danika became a full-time member of the Rollettes in 2023 and helps with their social media.
"I collaborate with the girls on the team for social media for my page and the Rollettes page," she says. "We get together twice a month and do content whether that's Tiktok videos, dancing videos or whatever ideas come to our head. We also do performances in different cities and states. I love to travel and getting to meet people from all over."
What's Next?
When she's not working or dancing with the Rollettes, Danika is a social media influencer. "I honestly love connecting with my community whether that's people with disabilities or no disabilities. I feel as though I love to connect with the disabled community so much because I think back to when I first became disabled and I love being a friend to people who need advice on something disability-related, need some inspo or advice on relationships, etc."
"I love inspiring people that aren't disabled by doing something they may have been scared to do," she adds. Danika has gone skydiving and shark diving after her injury and loves sharing her life on her socials. "I just realized that life is so short now that I want to do it all and I want people to realize that they can too." And even offline she wants to help others. "I love to spread my light to those around me and I love bringing the positivity wherever I go."
Danika and Dom also have plans to get married in the future. "We are in no rush though because weddings are expensive." They keep busy with their three fur babies and their life in California. As for advice for others with new spinal cord injuries? She says the number one thing everyone should do is find a place in the spinal cord injury community.
"I waited and kind of didn't feel comfortable defining myself as disabled right away," she says. "I know a lot of people who felt the same and pushed away the community because they weren't disabled since birth just because of an accident. But finding my community really brought me the most peace in my life since becoming disabled and I feel it's a great tool to have to ask for advice in your life."
Danika also wants everyone with a SCI to know the following: "Don't be afraid to reach out and ask for help. You'll be surprised who's willing to help you. And don't give up on your dreams just because of your injury. There are so many possibilities out there for you. Just keep pushing and fighting for the life that you want."
— Follow Danika at https://www.instagram.com/danikajolenee/