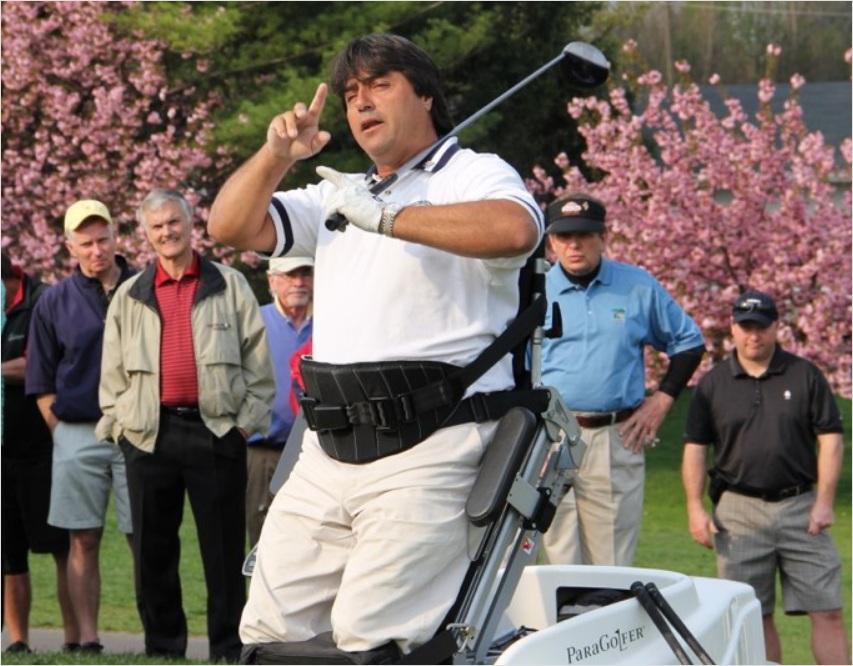 When Anthony Netto was injured in a car accident in 1994, hit by by a drunk driver while on his way to a major golf tournament in South Africa, he thought he would never be able to play golf again. But fortunately for all of the golfers in the world, he did not concede so easily.
Instead, after meeting a young boy with a disability while in rehab, his self-pity went out the window and he decided to figure out how he could golf again. Anthony ended up creating one of the coolest machines ever invented to help people without leg movement to stand up and play golf. Read his amazing story and how he's helping others rediscover golf below.
Why he's fearless
When you're injured on your way to do something you love, the feelings of confliction run deep. For Anthony Netto, a South African born and raised and veteran of Desert Storm (he was a First Lieutenant in South African military), he didn't think golf was a possibility after his injury. But then he did try to golf from his wheelchair, and found too many drawbacks. The biggest – sitting down while swinging was just too awkward.
That was when Anthony decided to invent the Paragolfer, a power wheelchair for anyone who wants to golf again. The machine can go up hills and sand dunes like a champ, but the coolest aspect is that it can stand you up so you can swing from the most natural (and successful pose) possible – standing. Everyone assumes this is by far the most successful pose for golfing, and Anthony definitely agrees. The Paragolfer can cover 27 holes on one charge.
Officially, Ottobock, a wheelchair manufacturer from Germany, manufacturers Anthony's Paragolfer, and the price for one of these amazing creations will set you back $25,000. Check them out. Since the price is so expensive, Anthony loves to travel the country in a RV talking to people with disabilities about how to successfully raise money to get a Paragolfer installed at a course near them.
In his RV, he has a trailer that pulls his all of his Paragolfers as he travels. He may travel more than any other person with a spinal cord injury I know.  Speaking of which, this fall he made a video hoping to get his RV remodeled on the "Rock my RV' reality-show hosted by Bret Michaels on E! No word yet if he's been chosen, but here's his submission video.
What's next?
More than just inventing the device, what Anthony has done since he created the Paragolfer is even more impressive. A veteran himself, Anthony is passionate about bringing his device to as many people around the world as possible, especially newly injured individuals at rehab units through the Wounded Warriors organization.  From new vets with SCIs to amputees, Anthony brings the Paragolfer to veteran rehab facilities all around the country, hosting clinics teaching how it's operated, and how to golf from him. Watch him bring his machine to newly injured vets
One a side note, last summer I had the awesome opportunity of meeting Anthony and I can say that despite not being as agile as him in the least, I loved the Paragolfer. Anthony is also one of the most passionate people with SCI I've ever met, and with a golf swing that can top 250 meters, he has that magic ability to make you forget he's disabled.
– Visit his foundation's site: Stand Up and Play Foundation
Have you tried the Paragolfer?
Watch the videos
– Anthony explains why golfing standing up is so much better (it is!)
– Anthony Netto's story profiled on Golf Central USA TV
– Anthony Netto swings over 250 meters long drive with Paragolfer