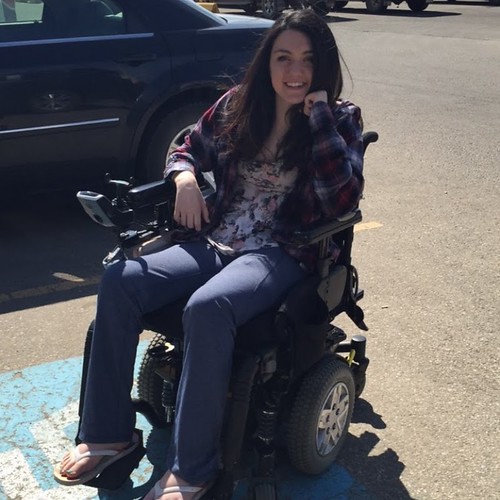 For Kiesha Mastrodimos, the last four years have been a cycle of rebirth. From going from a happy-go-lucky teenager to a quadriplegic, and then moving to help others, Kiesha is one unstoppable female. And since her injury, she's become best known for something many do – making videos using her phone. But what makes her videos different is that she's getting thousands of hits.
At just 21 years old, she shares a lot too. From showing how she empties her pee bag to one of her most popular videos, showing how she gets into bed completely on her own, it's all about helping others. She wants to change the world by showing how she does everything, and she is. Read more about this delightful Canadian badass below.
A Sudden Injury
In November 2013, while driving home from babysitting in her hometown in Alberta, Canada, Kiesha and her friend hit a moose. It was a crazy accident (the moose landed on their car, crushing it) that resulted in Kiesha breaking her neck. When the doctor told her she was a quadriplegic, both she and her mom were stunned. "We had never heard of a 'quadriplegic' so we took to Youtube to figure out who these people are."
And this is was when Kiesha's Life changed forever. She began to see what quadriplegics of her level could and couldn't do. "And with that, I wanted to help other people who were injured. I want to show them there is still hope and that you are able to have a good and normal life." She began making videos 8 months post-injury.
Kiesha and her mother Marilyn recorded her first video around eight months after her injury. It's titled "First Time on Hands C5-6 Incomplete Quadriplegic" and she shows how she can brace herself with her hands in front of her, and it's only 19 seconds long. With her big smile and great laugh, her videos are definite 'feel good' videos.
The Video-Making Queen
Over the last four years, Kiesha's made hundreds of videos, and many of them document her increase in mobility. From her sitting progress to her core balancing/exercise program for a C5-6 incomplete quadriplegic, her videos get lots of hits. However her transfer videos are some of her most popular. Her video showing how she gets into bed using an overhead life system has over 43,000 hits.
Her most popular video however is where she talks about her injury. "I believe that is appealing to anyone, whether you're injured, in a wheelchair or not. It's inspiring and insightful." And it's received a little over 44,000 hits. The rest of her videos are on everything from how she takes off her shoes, chopping potatoes, blow drying her hair, plucking her eyebrows and a tour of her new wheelchair accessible apartment (which she just recently moved into).
Her next goal is to take more video requests. As for advice for anyone newly injured, she has this to say. "It's okay to have bad days. When you're down because you don't think you're making progress, don't look back at yesterday. Look back further than that. You will surprise yourself at just how far you've truly come. You have one life; live it up. You are the only determiner of your destiny."
Kiesha's thank you's: "I would like to add is a HUGE shoutout to my amazing, courageous, loving mom, Marilyn. You are my hero, my idol. The strength you continue to have, after everything you have endured is beyond admirable. You are incredible.
Thanks to my brothers, Tyson, Levi, Jesse, and Seth and mom's wonderful boyfriend, Ryan, you guys give me strength when I am down. Thanks for always having my back and thank you for absolutely everything you have done for me, even emptying my pee bag ?. Love you guys so much.
As well as my lovely family, friends, home care ladies, physio and occupational therapists, Dan Passey and everyone I have met along this journey, wouldn't trade it for the world. Thanks to all that continue to support me as I travel along this road."
Kiesha's Links 
– Kiesha's Facebook Page: Kiesha's Road to Recovery
– Kiesha's blog: Wheels Life XO
Watch Kiesha's Videos!
– My Accident Story C5 C6 Incomplete Quadriplegic
– Getting into Bed C5 C6 Incomplete Quadriplegic
– My New Wheelchair Accessible Apartment C5 C6 Incomplete Quadriplegic
– Blow Drying Hair C5 C6 Incomplete Quadriplegic