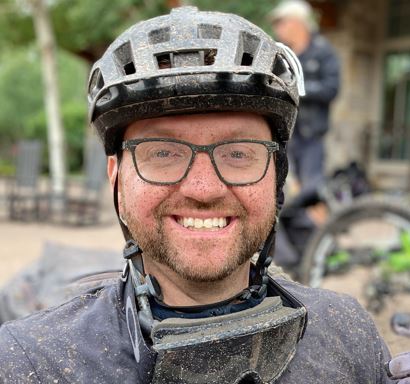 When it comes to mountain biking trails in the US, not all are created equal. Phil Hashem experienced this after discovering adaptive mountain biking during Covid. Hailing from the mountainous state of Arizona, he was sad to see the lack of accessible trails that were available. He knew something needed to be done, so he started sharing his trail experiences online.
And this was when his life began to change for the better. People who also loved the sport began reaching out and soon Phil found his life's new passion. From meetups with fellow adaptive mountain bikers to going to Europe to promote the sport, adaptive mountain biking changed his life in a way he never thought was possible. Read on for his story. 
Becoming Paralyzed
Phil is not your average quadriplegic. Paralyzed in 2001 in a car accident (he was a passenger in a friend's car), he sustained an incomplete C5-7 injury which left him with the ability to walk, but only slightly, by using canes. "I could walk short distances using two canes," he says about his injury. "I've been walking for 21 years now so it's been getting harder lately and I've been using the chair more. I do a lot more traveling and can't work out as much. I do have sensation but it is a little compromised."
This rare spinal cord injury makes him a "walking quadriplegic." He is one of the unique individuals with spinal cord injuries to retain the ability to walk (although no where near the same strength and fortitude as before). Phil is currently 37 years old and living in Phoenix, Arizona. Interestingly, it was until 2020, nearly 19 years after his injury, when he discovered the sports of adaptive mountain biking.
"When Corona shut down the world, I started going up north to Payson, Arizona and fell in love with nature," he says. "One time I went a little too deep in the woods and got stuck, and I had to say the night, waiting for the morning and used my wheelchair as a walker to walk out a mile in the rough and uneven terrain. It took me 6 hrs, but I made it. After a situation like that, you're either too afraid to ever go on the woods again, or you get better tools."
Phil, who loves the outdoors, decided to get better tools. He first purchased a Jeep Rubicon and soon thereafter an adaptive off-road handcycle. He quickly fell in love with the sport of adaptive mountain biking. "When you have a disability and you find a sport you could perform well, it really sparks that passion, especially when I could do it with my friends, travel, see so much beauty and get exercise." Phil's favorite adaptive mountain bike companies are Lasher, Bowhead and Reactive Adaptations.
Becoming an Advocate
After Phil fell in love with the sport of adaptive mountain biking, he wanted to give back. "I started to get more involved in the community and promoting the sport because it changed my life so much. It just made sense to get involved in all the elements that would allow for equal access for people with disabilities to be able to enjoy the beautiful outdoors."
He started an IG and Youtube channel aptly named "QuadonaBike" and had a light bulb moment – to start cataloging trails suitable for adaptive mountain bikers in Phoenix and throughout Arizona. You can find accessible trail videos on his social media. Here is s short 3 minute video of Phil going over how his Lasher full suspension off-road handcycle mountain bike works and comes together. Watch
It's amazing how much change can happen in someone's life quickly, and that's exactly what happened when adaptive mountain biking entered Phil's life. From going abroad to France to share his passion for the sport to going on a 3 week tour through the US (Bentonville, Knoxville, Chattanooga, Hendersonville, Louisville and Indianapolis) and going on as many trails as possible, adaptive mountain biking is without question Phil's destiny, and we can't wait to see where this journey takes him next.
"I view adaptive mountain biking as a semi-cure. It allows me to access beautiful places I couldn't go before. And it's a bridge into advocacy, allowing fellow people with disabilities to be able to experience the beautiful and vast outdoors. Bringing that same joy into their lives that absolutely transformed mine."
— Follow him on IG: https://www.instagram.com/quadonabike/