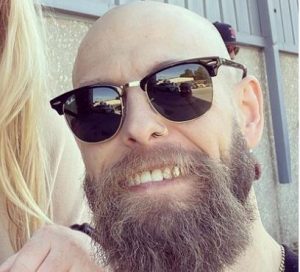 "I went from being the tallest guy in the room to the shortest," says Jason C. Brown, an Austin, Texas resident and Pitt Bull lover. Paralyzed in a motorcycle accident, he walked the earth for 35 years before becoming a person with a disability and he admits, the transition has not been easy. Fortunately, the transition has still been possible thanks to his life partner's support and a career he is still able to do. Read on for Jason C. Brown's story.
One Day Everything Changes
"I was injured in May 2021 in a motorcycle accident," Jason says, describing his injury. "Then I went to Texas Neuro Rehab and my experience was as positive as you could hope." He has a T11 injury. "The facility was on the antiquated side," he adds, "but the staff was knowledgeable and showed a sincere care for their patients." Jason was 35 years old and in a long-term relationship with his life partner Mallory, who he is still with today.
Although grateful for her being by his side, Jason says he still struggles with his mental health post-injury. "While it's a daily battle as far as what is most difficult, I would have to say that mentally adjusting to my perception that I'm at the bottom of the dominance hierarchy. That's a daily battle. So much of my personality and confidence with tethered to my ego. Being handicapped, if nothing else, is a humbling experience."
For Jason, one of his biggest struggles – and achievements – was regaining mobility in rehab, notably his left arm due to having an incomplete injury. "After months of work, I remember crying when I touched my face for the first time after the accident. I couldn't lift my arm at all following my accident." His doctors weren't sure if he would ever again regain function in his left arm.
After going home, Jason admits it was difficult. "You have to adjust to the new norm. It will take sometime to establish what your routine looks like, but it will come in time. Day 1 home from rehab was the start of the real test," he describes.
Adjusting to a New Life
After leaving the hospital, Jason's next step was to return to work. Fortunately, he is able to work remotely. "I work full-time in a remote capacity. I thought about going back to get my MBA, but I don't think it would be as it advantageous as it would have been in the early 2000's. My goal is to continue in my role and moving to a director role in the next 2 to 3 years," he says.
He's also looking at the world completely differently in regards to accessibility. Fortunately, Austin is an accessible town. "Austin is relatively accessible for the most part. It's a learning curve as far as doing research on locations you plan on frequenting; ie, concert venues, amphitheaters outdoor venues, etc."
Jason also wants to credit his furry friends for their support. "Henry and Lola bring so much light into my life. They know when I'm feeling down and overwhelm me with their love until I'm forced to crack a smile. Even if it's just them snoring next me while I'm on the team's call, they bring so much tranquility."
And for anyone with a new spinal cord injury, Jason has some wise words to share. "For anyone that is new to this type of injury, understand one principle fact: It will get better. Tomorrow will be easier than yesterday. I've got to be patient with myself and manage the expectations I've made for myself. Give yourself grace."
— Follow Jason at https://www.instagram.com/____jace____/