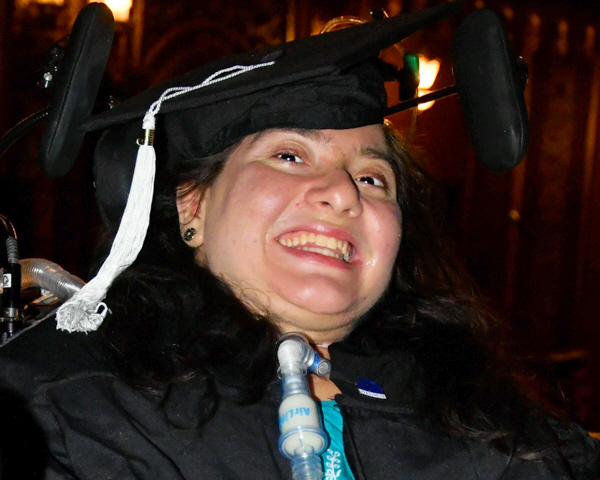 (Antonia Sinibaldi is a regular contributor and ambassador for SPINALpedia. She's also an author, singer and has been a vent-dependent quadriplegic since age 4)
Well it's official. I graduated from Marymount Manhattan College. I do have to take three summer classes in order to have my diploma mailed to my house. It has been the most exhausting yet beautiful experience getting my undergrad degree. The best thing about it the location of the graduation ceremony was at a theater in Washington Heights called the United Palace.
Before I continue talking about how grateful I am and how the United palace is very wheelchair accessible there are other things I need to talk about first. My life has been very blessed. I am a very religious person but I am also a person who is hypersensitive and my connections to my surroundings are very incomprehensible for enough people.
The struggles with having a severe spinal cord injury are very complex and mind blowing. In order to understand a body like mine, I realized I needed to read a lot of ancient books with modern books and studies in order to understand what is happening to my body. Combing the two ways of thinking ancient and modern in order to understand this body can eventually fix how we deal with spinal cord injury especially the more severe of injury from a young age. Enough people think that spinal cord injury is the same but it is not. I realized in my twenty-five years on this planet however the spinal cord was injured, the body responds to it differently.
When I had my accident, my spinal cord was bruised. I for the longest while thought that it was stretched like most injuries that are classified as incomplete whether one, two, or three. The way my body developed, most injuries do not respond to surroundings like mine. I am also the first singer to use a ventilator to breathe and my Diaphragmatic pacemaker. My grandparents where very religious Muslims and they use to say I am closer to God both in Arabic and in English the anyone else because I am the first to survive this type of spinal cord injury.
Most spinal cord injuries are one to two levels and then eventually arthritis can reshape the rest of the spine. I have three to five levels of injury as the original diagnosis. Singing and my mind being hypersensitive. Meaning being five steps ahead always helps but I didn't appreciated it until now. My physical sensation changes as I age, different ages I felt things differently. The only thing that kept me alive this long are praying in English/Arabic, singing and being self taught. I don't fully remember what it was like to walk and breathe on my own. I do remember conversations I had with kids on the playground and the day of the accident. Other than that, it is all blank. Here is where accessibility comes in.
A lot of places legally have to be 'handicap accessible" but not always the case. There are so many places from studios, to theaters, to concert venues and many more places that say they are handicap accessible but it is mostly for one type of disability than all types of disability. The beautiful theater the United Palace can hold a total of more than three thousand. That theater was made in the twenties for Vaudeville shows. The technical directors who helped my people and I said that the theaters was never fully renovated but a few touch ups here and there. Whoever designed it back in the twenties wanted every person of every ability to come. I feel wanted with theaters that can handle wheelchairs like mine.
This may be a shock to whoever is reading this, but as a disability activist I need to talk about this. Madison Square Garden in Manhattan not too far from where I live is one of the most wealthiest venues ever, but terrible for disability especially severe ones like mine. Madison Square Garden is worth over five billion dollars. The wheelchair lifts that they have at that theater worked best for only certain types of wheelchairs and both and both my manual chair and powered chair aren't one of them because of how big my chairs have to be.
The staff members are also very condescending because every time I showed them my name on my tickets with my IDs they kept saying, "Really you?" I am a woman with a disability and not an alien of some sort. How can a building worth so much money choose to get the smallest of wheelchair lifts and be so condescending to a modern day woman with a disability. My college (Marymount Manhattan College) in the past had their graduations at a theater in Lincoln Center.
I have been in the audience at Lincoln center before but never back or on stage. MMC did the right choice to get a theater that is fully wheelchair accessible. I am grateful for this whole magically exhausting life and that is what shaped me into being the disability activist that I am. Someone needs to speak up, and there is more to come from me.