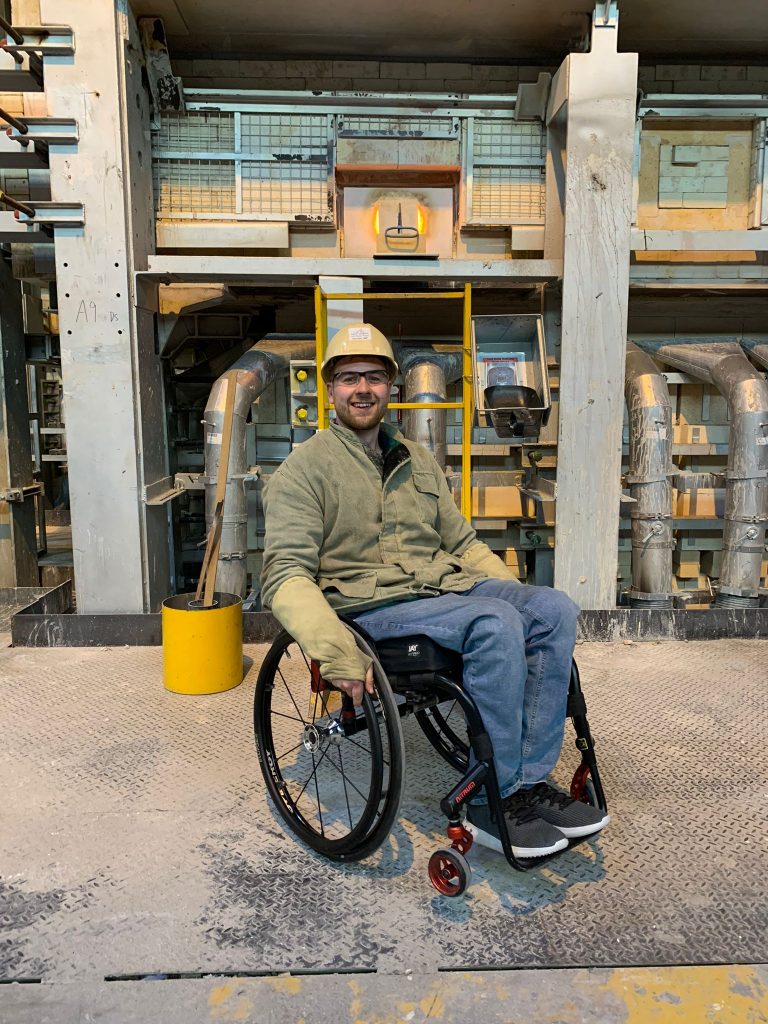 (Will is a T11 complete paraplegic from the United Kingdom and was injured in 2021)
Hello! My name is Will and in November 2021 I sustained a T11 complete spinal cord injury following a fall down stairs whilst on holiday with my friends in Turkey. I was taken to the nearest hospital and the fantastic medical team performed surgery on my spinal compression fracture, leaving me with the lifelong holiday souvenirs of 2 titanium rods and 8 titanium screws bolting me together.
Following the surgery, I spent 12 days recovering in hospital in Turkey before flying back to the UK via air ambulance. I then spent 4 weeks in 2 different hospitals in Nottingham before being transferred to the Princess Royal Spinal Cord Injury Centre in Sheffield where I spent the remainder of my inpatient rehabilitation time up to 18th February 2022 working with the physio & occupational therapy teams learning to become independent again.
During my time in hospital and in the first couple of weeks of returning home, my close mates could see the rehab progress I had and continued to make even though it was harder for me to appreciate this on a day to day basis. A couple of people said to me I should document the progress I was making as it would be very easy to forget how tough things were in the beginning. I had a quick look on different social media platforms and came to the conclusion that Instagram would be the best way for me to easily capture my so called journey!
It was on there where SPINALpedia saw my post about returning to work and reached out about writing something about my experience. Naturally I was over the moon with being contacted and I hope that by writing a small piece, it can help others in their recovery post spinal cord injury.
Before discussing my return to work, it's worth mentioning my occupation prior to sustaining the SCI. I worked for Saint-Gobain, a French multinational corporation that designs, manufactures and distributes materials and services for the construction and industrial markets. The business operates across multiple brands in 75 countries globally and employs over 165,000 individuals whom collectively work towards the group's purpose of 'making the world a better home'.
My role was within the Saint-Gobain Glass UK team working on a manufacturing site which produces high quality glazing solutions for the commercial and residential sectors. I was the Production Assistant on the Float Line working with the Area Managers and Operational Shift Teams. On the Float Line, raw materials are mixed in the Batch Plant before being sent to the Furnace where they are melted and refined at over 1,500°C (2,700°F).
The molten glass is floated onto a bath of molten tin, forming a perfectly flat surface which is then pulled through the bath in one continuous ribbon. The ribbon is then cooled in a controlled manner to induce the correct stresses in the glass before being cut into individual sheets of specific sizes at the end of the line some several hundred meters away from the start of the journey. The line operates 24/7, 365 days per year for 20+ years and produces in excess of 12 miles of glass each day.
As I'm sure you can imagine, my first thought when thinking about work was how will I ever be to return to my vocation which I loved, given it's in such a heavy industrial environment and far from wheelchair friendly or accessible? One thing that definitely helped offset my concern was the tremendous support I received and continue to receive from my colleagues. A really positive sign for me was when I took a call from the HR Manager whilst in hospital and she told me they company were paying for a third party assessor to come to site and review accessibility in the specific areas I would be working in.
I was then asked if I would somehow like to be involved in the assessment either via a conference call attendance or in person which I jumped at the chance (metaphorically speaking of course)! So just 11 days after leaving hospital, I returned to work for the first time in 4 months and what a great feeling this was. Catching up with colleagues and being able to get far closer to the line than I ever imagined really ignited my passion to return, get stuck in and collectively push glass making to the next level.
Although I had the desire to return to work at that time, practically I was not ready. For instance, as I'm sure many people will relate to, I was incredibly tired at the end of each day even if I thought I'd not done a lot. This is of course the reality of returning home after hospitalisation finding your own way to complete simple tasks remembering that everything seems to take more effort – if anyone has found a task which is easier to complete in a wheelchair than not, please let me know! Furthermore, I was awaiting my driving assessment to evaluate whether I was able to drive with hand control adaptations fitted to my car.
In the few weeks that followed my initial visit to site, I attended physio therapy and gym sessions at the incredible Matt Hampson Foundation (highly recommended to check them out), had a small holiday in London, met up with friends and family and crucially got my independence back after passing my driving assessment and having my car adapted. At the end of March, my Line Manager invited me back to site to meet with him and the Industrial Director to discuss my role and how it would need to evolve now I am a full time wheelchair user.
To my delight, they still see a strong future for me working on the Float Line in manufacturing albeit it from a less hands on, shop floor approach as I previously took. Going forward my role will be heavily involved in the development & industrialization of new processes, technologies and products within the glass industry whilst also performing trials with the central technical team based in Paris. This presents an exciting prospect for me as it will involve close coordination with colleagues from all corners of the globe and there is an opportunity to travel worldwide within this role, all with a spinal cord injury!
On Wednesday 6th April, just over 6 ½ weeks after leaving hospital, I started working in my new role on a phased return and have not looked back since. I think a key part to my return was being completely open with my colleagues about my injury and all the associated delights that come with SCI. Clearly my legs no longer work but what most people including myself were not aware of was the impact such an injury has on bowel and bladder management.
I thought long and hard about whether I should say anything to my colleagues about how I manage my bladder and bowel but the reality is I will most likely have an accident at some point whilst at work so I may as well make people aware now and not see it as a taboo topic but more of an opportunity to raise awareness. Many people had told me not to rush back to work and take time to physically and emotionally come to terms with the life changing injury I had sustained.
But my view on it was that me returning to work was a key fundamental pillar of the foundations that supported my recovery. As I take this time to reflect back, I appreciate that I have been extremely lucky to work for such a supportive company and not everyone will have this opportunity. Saint-Gobain continues to support me and have allowed me to return at my own pace, gradually increasing the time working each week whilst still being able to attend my crucial physiotherapy sessions and peer support activities. I am currently following a hybrid approach of some time spent working from home with other time spent working from the site.
My plan is to gradually build back up to full time and prove that with increasing technologies, the right attitude and a supportive network, working in manufacturing with a spinal cord injury is not only possible, but highly recommended. I'm sure by focusing on what I can achieve rather than what I can no longer do, I'll keep wheeling in the right direction.