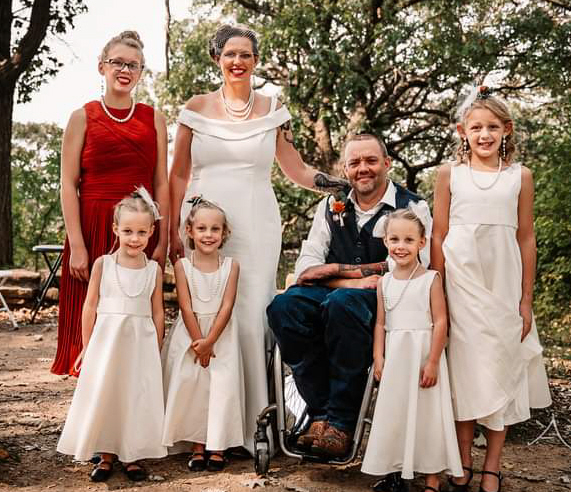 My name is Bill Heilman and I am from Le Center, Minnesota. I was injured in a car accident when I was 16 years old in 1991. I hit a telephone pole and broke my neck and I am a C5-C6 quadriplegic. From day one I have never been down about being paralyzed. So many friends and family have told me that I have such a great outlook on life and I believe that is why being disabled has never slowed me down.
After my accident I finished high school and graduated, went on to college (basically totally independent) and graduated there as well. While I was in college I played wheelchair rugby and wheelchair basketball. I worked in agriculture and the cell phone industry up until 2018. I have done so many things since I've been disabled and who knows if I would have been able to do that if my accident never happened.
Over the years I've dated a couple gals and it just never worked out and I just figured I would probably always be single. In 2015 I met a girl and started dating her and she has two amazing daughters who I fell in love with right away. We had talked about having children but I just wasn't sure if I would be able to without help from a fertility clinic. But, we started trying and we found out in 2016 that she was pregnant.
We went in for the first ultrasound and found out we were expecting triplets. Once our triplets were born in 2017 so many people said that if I need help that they would want to help me and I've always been one that has wanted to try it first and if I need help I'll ask and there was very few things that I couldn't do with raising my kids who are now five.
I just found ways of changing their diapers and clothes by using my teeth. I found ways of getting them out of the cribs as well. I just want people with disabilities to know that they don't have to think that just because you're disabled you'll never find your significant other or that you can't have children or take care of them because I'm proof that you can and I'm able to do three at one time.
And then on September 11th of 2021 I finally married my wife!
— Follow Bill at https://www.instagram.com/disabled_identical_triplet_dad/