This guest post on Parenting with a Disability comes from Alicia Reagan!
—————-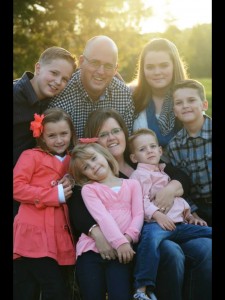 In March of 2009, I was 5 months pregnant with my 6th baby. I got very sick and was in a tremendous amount of pain. I lay down to take a nap and when I woke up, I was completely paralyzed. After much time and testing, I was diagnosed with Idiopathic Transverse Myelitis. Paralysis, and a life raising all of my children from a wheelchair, was NOT in my game plan.
After almost 5 years in my chair, and having a houseful of kids that range from toddler to teen, I have a few things I would like to say about parenting. There is much written about parenting a special needs child, but little written about being the parent with the special need. Here are some things that I have learned.
1.We are capable of being great parents!
I cannot tell you the times that people will be shocked to learn that as a paralyzed woman, I am capable of having children. Women in chairs can conceive and carry a baby like other women. Modern medicine can help couples where the man is disabled. Depending on your disability, you will definitely have to plan around your disability and your specific needs. Our disability is a factor in having children, but it is certainly not the deciding factor. If you want a family, go for it!
2. My children are not my aides.
I think this is important to remember. I see people look at my children with such pity at times and it really makes me want to scream! They are my kids. They do not suffer. They do not take care of me. We are a big ship to run….even before I became paralyzed! My children do their share of chores. I want them to know how to make their beds, clean their room, do laundry, cook, and take care of the yard. They did these things before my chair and they still do them. I love how my children love me and desire to help me out, but my children do not take care of me.
3. We can give kids what they need.
Typical parenting has many physical stereotypes. Commercials are full of dads throwing footballs, moms running the soccer car pool, hiking with your family….are you feeling all of the physical activity?I think one of the reasons that disabled parenting gets such a negative response is because we don't necessarily fit the typical active parenting mold. I don't think we have to be all that to give our children what they need.
I think that the most important thing that you can give children is not activity. It is love, attention, quality time, and focusing on their precious hearts. My kids love activity, and I get in on as much of it as I can, but realistically I cannot do what I used to do with them. Do you know what I have noticed though? I have a lot more time to just sit and listen to them. I have a lap that is always available for my little ones to climb up on. There is more time to watch cartoons with them on days I don't feel as well. I have had more one on one time with my kids since I became paralyzed than I did before. Our relationship has become much better…not worse. Even with a teenager!
4. We will improve society.
As parents with disabilities, we are raising kids who will enter society with a heart for the disabled. What a gift that we wish many more had! My kids already find the special need kids to be a friend too, and my older ones have already told me that they would have no issue at all with marrying someone with a disability. I love that!
5. Being a mom, helps me deal with my disability.
My kids are one of my greatest reasons to deal with the frustrations that can come with being paralyzed. They are watching me. They are learning, by my example, how to handle hardships in life. They are learning about attitude, confidence, acceptance, resolve, determination and happiness. Knowing they are watching me handle this disabled life makes me humbled to show them the right way. It is a wonderful reason to get up and get going in the morning.
Being a mom is a precious gift. I did not choose to become paralyzed, but if it had to happen, I sure am thankful that I am surrounded by my children. Life is beautiful…especially when you are a parent!