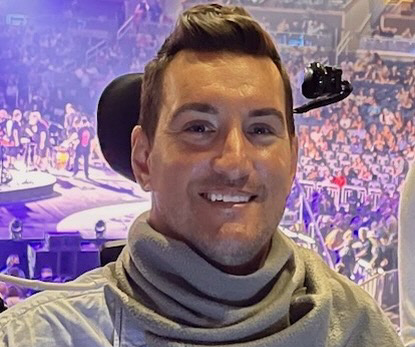 (David is a C4-5 quadriplegic from Orlando, Florida)
My name is David Hill. In September 2014, I had a life changing accident that left me a C4/5 quadriplegic. I was 34 years old.
Prior to my injury, I was an extremely active and determined person. I was a successful  real estate appraiser, loved pushing myself to new achievements in the gym, played on multiple recreational sports teams and led an active social life with my friends and family. I was living my own dream.
The day of my accident, I was attending a friend's wedding in Alabama. After the ceremony, the wedding party decided to jump into the pool in celebration of our friends big day. As soon as I hit the water, I knew something was very wrong. My next memory was waking up three weeks later in the hospital, terrified because I was unable to move or talk.
This is when I learned that I had jumped too far hitting my head on the other side of the pool, splitting it wide open and breaking my neck. The break left me paralyzed from the neck down and unable to breathe on my own. From that point on, life I as I knew it, was over. My dream life was now a nightmare.
I spent the next four weeks in intensive care, followed by two months at the Shepherd Center for Brain and Spinal Cord Injury in Atlanta, GA. While there, I learned that my diaphragm had stopped working, and I required yet another surgery for the doctors to implant a pacing system. After I was discharged form Shepard, I moved back home with my long-term girlfriend, who had been by my side the entire time.
Complications with my ventilator kept me in and out of the hospital for many weeks, and it looked like I would be on a ventilator for the rest of my life, in addition to not being able to walk or even feed myself. At this point, the stress and pressure of my condition was too much for my girlfriend, and she moved out.
At that point, I hit rock bottom. I had never felt more alone or scared in my life. Unable to work or care for myself, I couldn't see any hope for the future. Desperate for any glimmer of hope, I began researching options for recovery, despite the bleak odds. Well-meaning doctors and counselors discouraged me from getting my hopes up, instead telling me to find a way to accept the circumstances and just survive.
I didn't listen. I had no desire to just "survive." I wanted to thrive. I wanted to hope and to believe in a future for myself, even if it was very different from my past or from any future I had imagined for myself. This became my sole purpose. I was determined to defy the odds, and to make progress, and it gave me a reason to open my eyes every day.
I started going to NextStep in Orlando, a physical therapy center specializing in spinal cord injury patients, and within two months, my lungs were strong enough that I did not need a ventilator. After six months, my diaphragm was back to full strength and my pacing system was removed. From that point on, I knew in my heart that I would be able to walk again, it would just a matter of time and determination.
However that's not even the best part about NextStep which I have found out over the last few years. One of the main reasons besides working out there is being with other people in a similar situation. I don't think I would be in a very good place mentally if it wasn't for NextStep and the people there. Being a quadriplegic can be very lonely mentally and physically. So being able to go to a place where I can get out of my wheelchair and interact with people who are now some of my best friends, is amazing.
I cannot tell you how much this has saved my life and given me purpose. With this drive I've seen tremendous improvement in my core strength thanks to years of hard work and physical therapy, I can now lock my legs out and keep my upper torso stable while standing with minimal assistance and this is only the beginning.