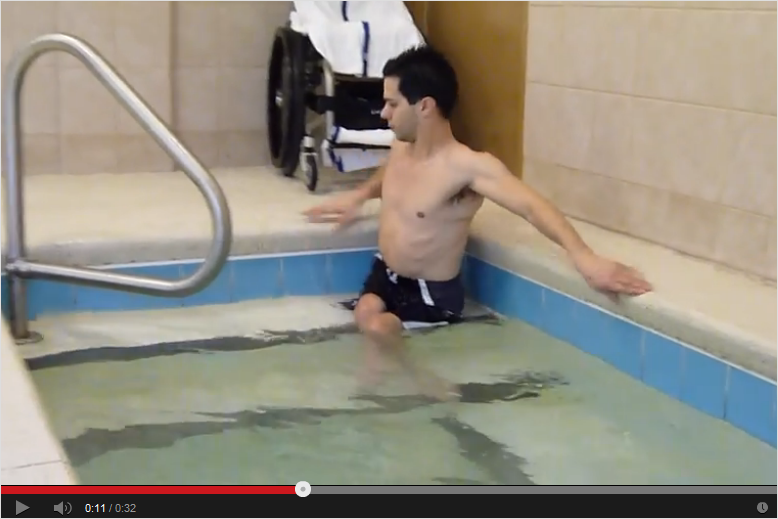 There's nothing more enticing then a hot tub waiting for you to dip into. The bubbles, the steam emanating from a water, the peace you feel as you soak, it's without question one of the best pleasures of being alive. When you have a spinal cord injury however, getting into or out of a hot tub is a bit more tricky.
Some of us resort to getting lifted into the delicious hot water because we're not strong enough, while others have figured out clever ways to get themselves in using some serious transfers sills. There's even a transfer aid available that's perfect for hot tubs. So stop looking at the hot water lovingly wishing you can get in, and read how it's possible below.
Our first video comes from seasoned spinal cord injured video-maker WheelzofFortune, a 20-something paraplegic who's made hundreds of videos showing how he does things in life. In this video of him enjoying a hot tub, he shows how he can transfer himself completely out of the hot tub independently.
Serious upper-body strength is required for it, but if you have a full upper-body movement you should be able to master the transfer. What he does first is bump himself up the steps, then he uses his arms to hoist himself up into his wheelchair. It may sound like a lot of work, but for lovers of hot water, it's absolutely worth it. Watch his impressive hot tub transfer 
For another transfer back into a wheelchair from a hot tub, check out this video from Wheelchair Style, a paraplegic of 20 years who also loves making videos showing how he does things in life. In his "how-to" hot tub transfer video, he offers lots of tips. His biggest tip – utilize the spa railing for your transfers, as it provides a very good base. Most of these railings are fused deep into the cement, making them safe to use.
He also recommends wearing Crocs, or a similar style shoe, to protect your feet from getting scratched while transferring (hot tub bottoms can run on a rough side). And to make sure you can see your feet while prepping for the transfer and while doing it, he recommends turning off the jets so the water remains clear. Watch his transfer
And if you're like me and can't transfer yourself at all into anything, let alone into a hot tub, then the Erogotrans is right up your alley.  This transfer aid is a vinyl sling meant to be used by two people that safely and easily helps transfer you into a hot tub.
It also has handles on each side so those lifting can just grip and go. If you have two people available for lifting, this slick product makes the transfer no worries at all mon. Watch a teenager with CP get lifted into a hot tub using the Ergotrans
Hot water may not be your thing, but if it is, these videos definitely prove you don't have to let go of that love if you have a spinal cord injury. It may be a bit more work than it was pre-injury, but the healing powers of the warm water makes it more than worth it.
How do you get into a hot tub?
Watch the videos on SPINALpedia!
– WheelzofFortune shows his slick hot tub into wheelchair transfer
– Wheelchair Style shows how he gets out of a Jacuzzi
– Ergotrans, a lift aid you can use for getting into/out of hot tubs