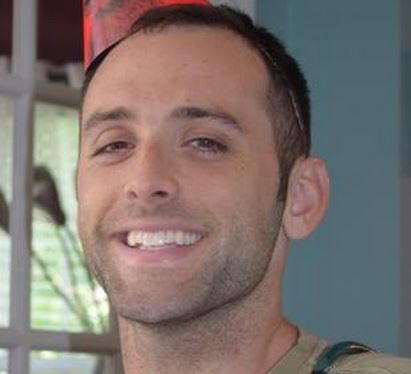 There comes a time in everyone's life post-spinal cord injury when they happenstance upon a new calling. Some discover a new recreational activity like wheelchair rugby, while others, many others, fall in love with painting. This was the case for Corey Hyslop, a 36 year old former athlete from Aurora, Illinois.
Pre-injury, painting or any artistic pursuit was not even a blip on Corey's radar. He was the opposite; an athlete much of his able-bodied life, he loved SCUBA diving, playing baseball, but after his injury in 2007 (when he was involved in a motorcycle accident), his former athletic life was sadly came to a sudden halt.
After becoming a C3 quadriplegic, Corey was left with minimal arm movement. While in rehab, he discovered the world of mouth painting. Learning about renowned mouth painter Joni Erikson Tada in fact inspired him to try the pursuit. "I saw videos from Joni Erikson Tada and became very interested," he says.
Getting the hang of painting with his mouth however was not easy. "My first impression of mouth painting was that is was fun, but very difficult to control." Choosing the medium of acrylic paint, Corey discovered two things were critical to creating a good painting – brush size and the right distance between him and the canvas.
Deciding what to paint and bring to life can be the tricky part. "I paint things I see everywhere and I paint what I see in my dreams," Corey explains. And he decided to call his studio FatBellyArt. Why? "Because nobody wants to be a starving artist." His unique take can also be found in his art. Among his works you'll find renditions of nature like abstract bird feathers, a flaming pink sunset and he creates works with impactful phrases like "Positive Vibes Only."
Corey has decided to mainly sell his art through Etsy, and he loves interacting with his customers and fans. Art however isn't the only pursuit Corey went after post-injury. He also has his Master's Degree in HR and did HR work for a military defense contractor for 10 year. When he's not working or painting, watching sports is still a huge part of Corey's life.
Mouth painting however has given Corey a new lease, a new direction, and he's excited to see what's next. "Mouth painting is teaching me patience," he says, and "I'd like to become a more detailed painter in the years ahead."
— Visit Corey's IG
— Visit his Etsy shop, FatBellyArt
— Visit his Youtube channel