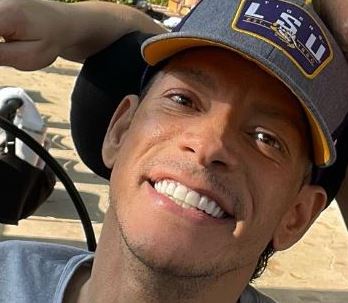 Pre-injury, if you had to describe Chico Garcia Jr.'s life, it would be two words – ridiculously busy. A former cheerleading coach for Louisiana State University (LSU) and at the same time an Apple store employee, he was 29 years old and in peak physical shape.
All of that changed while on a boat cruise with friends in 2011. The boat crashed into a dock, with Chico breaking his neck. Moving on since his life has been forever altered, he's been on a mission to heal and to re-reinvent his career. See how he's doing on both fronts below.
The Injury
The very moment Chico was injured, he knew something was wrong. "After attempting to stand from the laying position, I knew instantly," he says. Chico was a passenger on a boat facing backwards on the way home. The driver became distracted by his son in the front of the boat and ran into a dock. "I was only one seriously injured," he adds. Chico sustained a C3-4 front and C4-6 injury and has no movement from the shoulders down.
Since there were no top-rated spinal cord injury rehabilitation centers near Baton Rouge, LA, where his injury occurred, after he was stabilized they airlifted him to the Shepherd Center in Atlanta, Georgia. "I stayed there for 2 months before coming home. After being discharged, I went to generic therapy outpatient that insurance provided and was not aware of activity-based therapy since my entire state had none."
Once Chico learned about activity-based therapy however, he was set on moving to Orlando, Florida where he could work out at NextStep, an activity-based therapy center for people with spinal cord injuries, which he did make a reality. Chico also invested in umbilical cord stem cell injections in 2019. "I truly believe it helped, but I would need multiple injections for at least 5 years."
And he tried a rather questionable treatment. "I saw this blind guy in Tampa who 'claimed' he could rub a nerve in the foot to activate the connection again. Worse money I ever spent! Total fraud!"
Career-Change
Pre-injury, Chico was a cheerleading coach for LSU for 8 years, as well as a cheerleader for LSU for 4 years. He also worked for the cheerleading company UCA as an instructor/head instructor and was a videographer/content creator for LSU cheerleading. "I always tired to stay with latest trends and technology." Outside of cheering, Chico worked at Apple for 6 years, helping people with their phones, app issues and more.
After his injury, Chico decided to refocus on what he really wanted to do and decided to focus on videography. This time he wanted to try something new – to become a drone pilot. The adaptive technology to use one however can be tricky.
"It took a couple trial and errors with different setups," Chico describes about his first few experiences using a drone. "I have an attachable arm on my chair that puts the controls close enough to use my mouth stick to control it." Once he got good at operating a drone, he began to create videos. "I love creating hype videos for sports such cheerleading, dance, MMA and bodybuilding/CrossFit. My dream pre-injury was to be a trailer editor for movies." And he uses Glassouse to create his videos, which allows him to use his computer hands-free.
Outside of work, Chico is interested in home automation. "I love home automation to control things like unlocking the front door or activating the door opener or to view a camera that shows who is at the front door with an app called Control 4."
Dating Frustrations
Despite the positive road Chico has been on since his injury, dating remains a problem child. "The only thing I really struggle with is dating, which has been and still is nonexistent since the injury occurred and to me it is obvious why; the higher the injury the harder it is to date," he says.
"I've tried every method possible. In the beginning, I tried the usual like meeting people through friends, work and hobbies but no luck. Then I moved on to dating apps like Match.com, eHarmony, Bumble, Hinge, Plentyoffish and Tinder, but still no luck. At this point I wanted to try an experiment to determine the issue so I went back to all of those sites but posted photos before my injury, and none in my wheelchair, and I instantly saw a difference, which confirms the reason."
Chico began asking others with spinal cord injuries if they had also experienced dating issues. "Throughout my 11 years, I've spoken to many guy wheelchair friends with injuries from C2 – L1 about their dating experiences for advice/comparison, and it's seems the more movement you have, the more likely you will have chances to date."
He isn't however without hope and has dating tips for others with paralysis. "I would advise people to be themselves and to openly communicate about your situation for those with no knowledge of our world. And above all, don't try to force anything or hide aspects of your condition because it never ends good."
— Follow him: Cajunquad