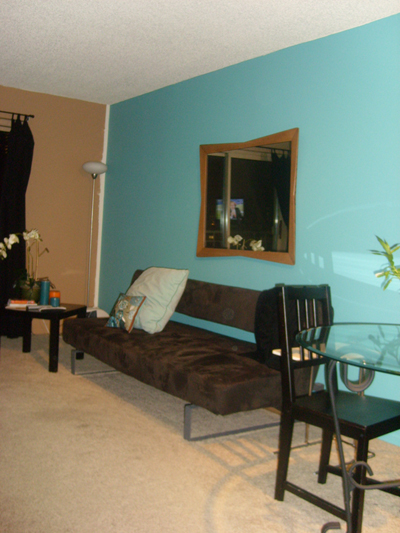 My first condo in downtown Minneapolis.
From the early days of rickety wooden ramps to the sleek modern residences that wheelchair-users live in today, universal design has come a long way. We all deserve to live in homes that complement our unique injuries and maximize our independence. The unfortunate reality – it can cost a whole lot more to get there.
City-life: My First Condo
I've been lucky. In 2005, my family helped me purchase a condo in downtown Minneapolis. It was an awesome first home experience. I had previously been living in a subsidized one-bedroom apartment for several years. The time had come and I was getting a fresh start, but the search for an accessible property proved unattainable.
And I also wanted a shiny beautiful place. A hard combo to find? You betcha. After a lengthy search, we found an apartment building being turned into condominiums. It was the perfect time to buy since they were renovating every unit to become more modern after each purchase. We were sold. After purchasing one of these units, we consulted with the contractor who found us an universal design specialist to help us renovate the condo so it would work for my chair and my needs.
We purchased a one bedroom, one-bath condo with a balcony on the eighth floor. The unit had underground parking, and I made sure the purchase included a wheelchair accessible parking spot in the underground garage. When moving into a condo, one of my number one rules is this – do not be shy with the homeowners or condominium association when confirming your accessibility needs can be met prior to closing.
A massive tear-out occurred. Crews tore out the entire kitchen and installed a new refrigerator with a bottom freezer for easier access (since I am a C6 quad with good arm movement but no finger-movement). They also took out the stove and installed a two-burner cook-top and a convection oven/microwave in the island. The kitchen sink was made accessible too by removing the cupboard underneath for pull-under/knee-space.
To make the bathroom wheelchair accessible, the designer recommended taking out the bathtub and installing a roll-in shower, which turned out quite well since we had plenty of space. In retrospect, the shower pan should've been a couple of inches deeper to prevent overflow while showering. Happened too often.
As for the balcony, that too was not accessible. The contractor was kind enough to build a wedge wooden ramp that could be pushed up to the door frame whenever I felt like going outside; a great solution. And they even moved down the spyhole of the front door to my eye-level.
But like all good things in life, by 2013 I needed a change. We sold the unit. Fortunately, we were able to sell it to a wheelchair-user which turned out to be a great deal for all in the end. It was a great 760 sq. ft. unit in the heart of the city, but it was time for me to move on.
Another New Condo: Part Deux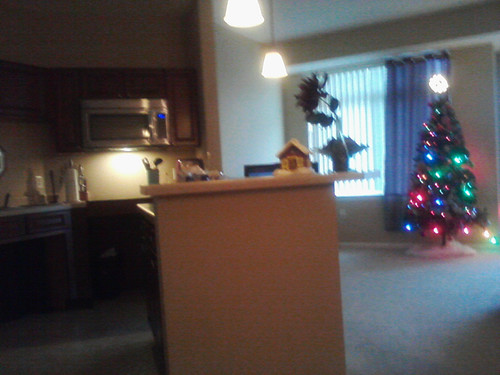 My open kitchen and living room in my new condo last Christmas.
After the city, I moved back to the suburbs. Craving a quieter neighborhood after 8 years of car alarms, rowdy Vikings fans and more, I searched for a condo close enough to the city but quiet enough for my at-home writing job, and easy on taxes for everyone involved as well. We ended up buying another one bedroom, one bath condo, but it was much bigger than my old condo and it was nearly half the price.
Since the new condo was a foreclosure, a lot had to be done after we purchased it to bring it up to par, accessibility and otherwise. Once again we were back at the starting block in a brand new condo. Luckily, I have plenty of handymen in my family who can do most home modifications so we were able to save quite a bit on the labor end of things.
My new kitchen was sadly a bit smaller than my previous kitchen, so we had to get creative. We took out the cupboard space underneath the sink. Unfortunately however this exposed some ugly plumbing. We easily fixed this by installing a black curtain to pull across.
We also removed the stove and replaced it with a cook-top. This time I got a four-burner cook-top and I made sure it was a glass top so I could easily move my pots from one burner to the other without having to lift them up. This has been one of my favorite features in my new kitchen.
I also bought a large $100 counter-top toaster oven as a full replacement for my oven. I realize for many this may seem like a strange appliance to solely have for all their oven-needs, but I've found the toaster oven works great for my disability because I can put it in right at my level.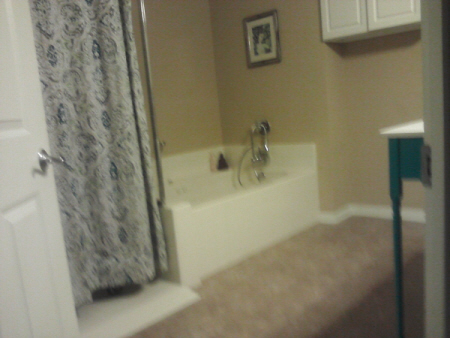 My accessible shower stall and jetted tub.
As for my bathroom, it already had a deep jetted tub and a standup shower stall. I fell in love with the tub and wanted to keep it, so we decided to make this stall wheelchair accessible by removing the lip and adding a Corian ramp and walls. We also made the sink accessible by putting it on a wooden vanity with four legs and a big open area underneath.
I also made sure my new place also had underground parking that included a wheelchair accessible spot. Since no more spots were available, the association requested that I identify spots in the garage that would work for my van but were already taken and then ask the owner if he or she would like to switch spots. It worked! I found a great spot by the bike rack that has plenty a space for my ramp.
I've been in my current condo for two years now. It has definitely been a significant change vs. city life, but I'm loving the change. The calmness of my new neighborhood is a balm for the soul. And since my new place is 300 square feet bigger, the extra space as a wheelchair-user can't be beat.
My home hunting/remodeling advice is to search long and hard. Don't settle for a property you don't really like or don't see potential in. Understand that it will take more time than you would probably like, but in the end it is always worth the wait. I love seeing my dreams for my place come true. Infusing fun, joy and accessibility into one's home is one of life's ultimate pleasures.
Have you bought and renovated a property to be more accessible? What advice do you have?
Some Home Modification Videos
– Spinal Cord Injury Home Modifications (Full Video)
– Spinal Cord Injury Geoffrey's House Modifications