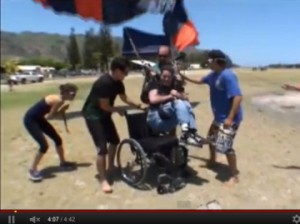 There something beautiful about the quietness of the skies. You're so far away from everything, from all of your problems… maybe that's why so many wheelers like to take to them?  Skydiving, paragliding, and for the less extreme (that would be me), hot air ballooning, watch these wheelers go up, up, and away.
The first video shows one of the coolest things you can still do in a chair: Going adaptive skydiving. A lot of people in wheelchairs apparently go skydiving all the time. Some have even perfected the art of landing in their wheelchair as they're coming down, like Damon, a quad from Hawaii. Watch him here
And check out the first paralyzed woman licensed to skydive solo here. This, my friends, is not an easy feat (considering most people equate wheelchair with unsafe).  In her video montage, you get to watch a progression of her dives as she gets more and more experienced. It starts with her going tandem, with someone strapped to her, and you can tell she's really excited about that jump (her first after all).
By the end of the montage, she's skydiving solo, and she even does a cool formation with two other able-bodied sky divers as the finale. Worth watching? Absolutely. Watch her adaptive skydiving here
In the next video, check out this adrenaline junkie times-infinity go paragliding while he's still in his wheelchair. Think he's nuts? Apparently not, and it's actually quite safe, as this is one of his ongoing hobbies. Watch him take off and land here (he goes so high!). Watch him here
This last video is perfect for afraid-of-heights babies like me – wheelchair hot air ballooning. Turns out there are a number of accessible hot air balloons in the US. that have baskets (not a lot, but a couple), including this balloon with an actual lift. There is even a paraplegic hot air balloon pilot, the only one in the world, Michael Glen, who you can see in action at a hot air balloon festival here .
There's so much power in conquering the skies. It must feel completely out-of-body to really get up in it, with the wind in your face (again; a huge draw for SCIers). I am almost, almost ready to try one of these up-in-the-air activities myself. If it happens, you'll be the first to know. I promise.
Have you gone adaptive skydiving? Would you go again?
Watch the videos!
– Damon, a quad from Hawaii, lands in chair after a skydive
– World's first paralyzed woman licensed to skydive solo
– Insane wheelchair paragliding
– Accessible hot air balloon, with lift!
– Michael Glen, the world's first paralyzed hot air balloon pilot