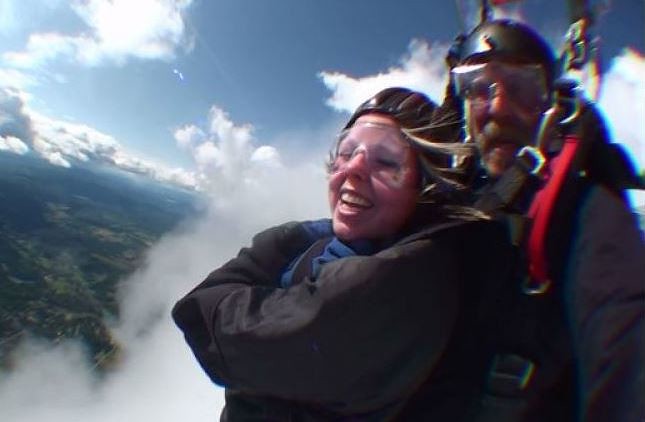 Skydiving might sound crazy to some, but for thousands who are paralyzed, it's one of their favorite adrenaline rushes post-injury. Both paraplegics and quadriplegics enjoy the sport safely across the globe, and at 140 mph, it's no wonder this thrill helps many "feel alive."
While it takes a chunk of change to skydive, say between $150 and $250 (that airplane ride isn't cheap), no other expensive adaptive equipment is needed to make it happen. Also, you must go "tandem" (skydiving when tied to a licensed skydiver) if you're not licensed (most people). Many paraplegics, and even some quads, however, undergo training to get a solo skydiving license.
A few more GENERAL rules and tips for skydivers with spinal cord injuries:
– Try to skydive on a mild day to avoid getting cold, and to make the jump easier for everyone helping out.
– Visit the skydive facility in advance and introduce yourself to the staff.
– Always strap your legs together, and your arms if you're a high-level quad, to ensure limb safety while jumping. The wind velocity can put a lot of stress on a quads shoulders.
– Strap your legs to your tandem instructor to prevent your legs from hitting the instructor in the face.
Paraplegia Skydiving Tips
Paraplegics ALWAYS need to properly tie their legs together before the jump. Any strap will do, but many use Duct tape or Velcro straps (make sure to bring your own strapping materials, unless you're going to an adaptive skydive facility). Strapping your legs together ensures that they don't go flying in wayward directions during the jump.
When landing, try to assist by pulling your legs up and underneath you so you land on your knees (don't worry, your tandem coach will land you softly). Some even arrange for someone to wait in the landing zone with their wheelchair nearby. Also, many solo licensed para skydivers prefer water drop zones (an ocean or lake) to ensure an extra soft landing.
Quadriplegia Skydiving Tips
Quadriplegics who skydive generally follow the same rules as paraplegics, although those who cannot move their arms will also need to strap their arms together. You will also need help donning the suit and harness provided by the skydive facility, so make sure to bring an assistant.
Also, make sure the straps aren't too tight to avoid automatic dysreflexia during the jump. Wearing warm clothing is important, but make sure it's not too bulky. And when landing, have help nearby for assistance if needed. It can be helpful, for example, for someone to grab the legs of the quadriplegic so they don't drag on the ground.
Indoor Skydiving
Indoor skydiving is the perfect warm-up for those not sure about jumping out of a plane at 17,000 feet, and indoor skydiving facilities are popping up nationwide. Many cater to people with disabilities, with instructors who assist in helping you out of your wheelchair and into the wind tunnel to "skydive." A giant wind stream is produced, creating the same physical effect as skydiving.
For the past year, SPINALpedia has been working directly with iFLY to put on "All Abilities" nights for all people with disabilities. This super fun adventurous "All Abilities" program cost less than $50 and includes pre-flight training session, all the necessary flight gear (suit, helmet, goggles), each flier is assisted by specially trained flight instructors that help with accommodations based on participant needs, and each flier receives 2 flights. 9
Interested participants should call their local iFLY facility to inquire about when the next "All Abilities" night will take place. Locations include: Atlanta, Austin, Baltimore. Learn more here: iFLY All-Abilities
Many say they haven't lived until they've gone skydiving. If this sounds like you, please share your experience in the comments below. Have fun and be safe!
Have you tried adaptive skydiving?
Learn more
– SkydiveBC North Adaptive Skydiving Program (the only exclusively adaptive skydive facility in North America)
Adaptive Skydiving Videos
– Accessible Skydiving (without) Wheelchairs by wheelchairtraveling.com
– FAQ 18: Can I skydive with a disability?
– Skydiving: Reeve Foundation
– Adaptive SKYDIVING! Defying the LIMITS!
– SkydiveBC PARAchutists