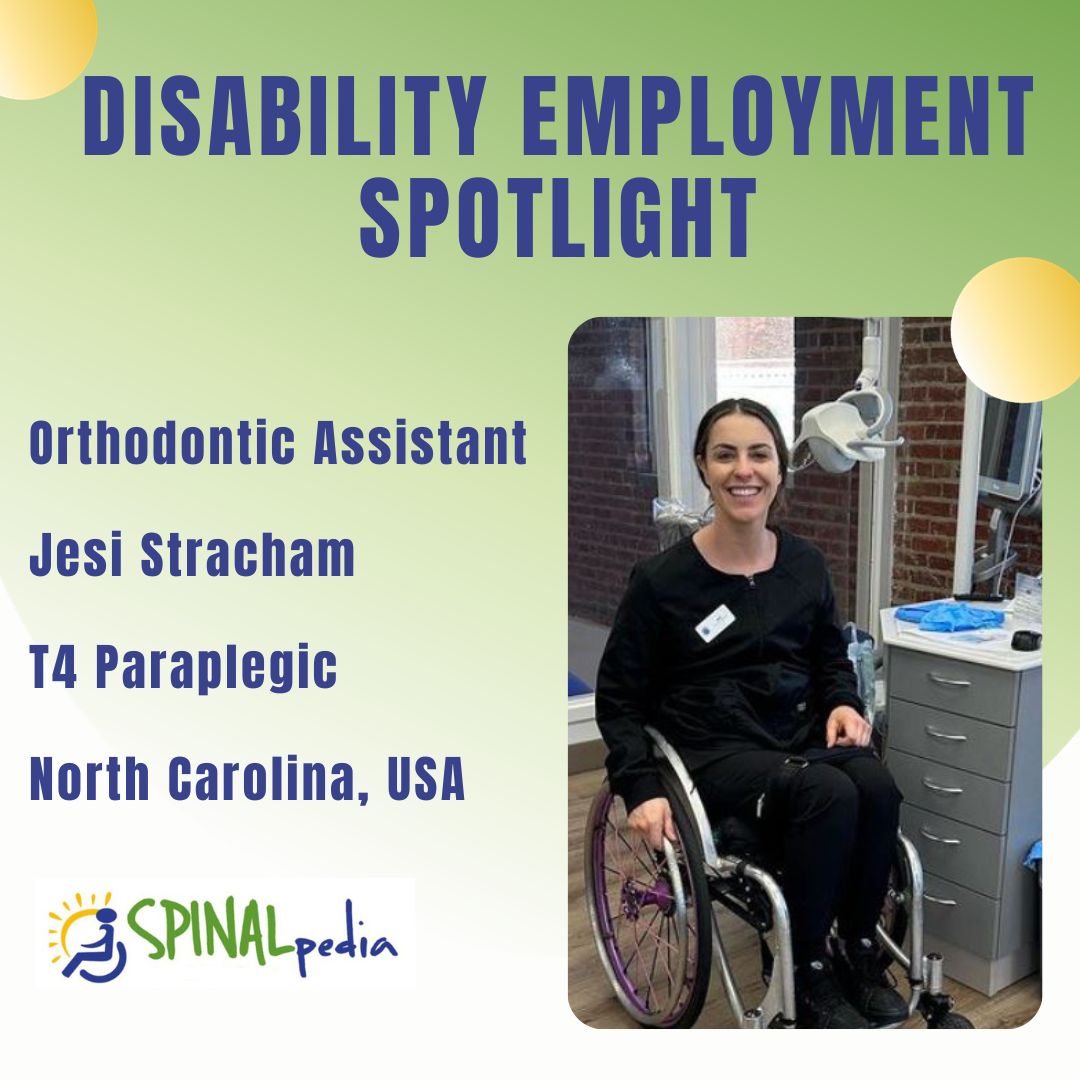 For the last few days of NDEAM/National Disability Employment Awareness Month, meet Jesi Stracham, a dental orthodontic assistant who was able to return to her job post-injury.
In the comments below, please share if you are ❤ working post spinal cord injury, 💚 when you started, and 💙 what you love most about your job 👍
Name?
Jesi Stracham
Age?
31
Where Do You Live?
Charlotte, North Carolina
How and When Were You Injured?
"I was injured in a motorcycle accident in 2015. A woman made a U-turn into the bike I was a passenger on and the driver didn't stop in time. He went through her SUV breaking his leg. I went over the SUV breaking my back in two places, my ribs punctured my lungs nicking my spinal cord injury, I have a traumatic brain injury, and I coded twice needing resuscitation. I am a T4 Paraplegic."
Were You Employed Your Injury?
"I was an Orthodontic Assistant for 4 years."
What is Your Current Job and What Do You Do?
"I went back to work as an Orthodontic Assistant 7 years after my injury. I started in March of 2022." "I managed the clinic full time. I work on patients, manage inventory, manage the other assistants, and keep the doctor on track."
How Did You Find Your Job?
"Linkedin."
How Long Did You Search for Your Current Job?
"2 weeks."
Please Name Any Programs That Supported You Finding or Maintaining Your Current Job:
N/A
What Kind of Disability Accommodations, If Any, Have You Requested and Received from Your Employer?
N/A
Do You Have Any Tips or Tricks to Share on Finding a Job?
"I was upfront with my disability. I later found out that most managers search for candidates on social media to get a feel for what they are like. Be sure to uphold a solid social media presence in the event an employer would look on it. Don't get discouraged if you don't immediately receive call back. I applied to 10 places only receiving an interview from 2."
Do You Have Any Tips or Tricks to Share on Maintaining Employment for the Long Term?
"Having an SCI makes just about everything harder. It's not fair, but I haven't figured out "Set yourself up for success for when disability happens. It will always happens, being prepared in those moments is the key to your success. For example, in the bathroom I always kept my bathroom supplies; catheters, gloves, wipes, and a change of clothes. This was a crucial part for me being prepared for when disability happens."
If You Could Go Back in Time, What Advice Would You Give Yourself Before Pursuing Your Job or Career Path?
"Don't wait. There is no reason for you to struggle financially. You are capable of working. There are systems in place to support you working so you still have access to medical supplies, etc. Going back to work is the best decision I've made!"
— Follow Jesi at https://www.instagram.com/jesistracham