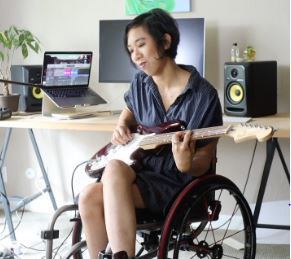 by Tiffiny Carlson, Executive Director of SPINALpedia and longtime disability writer
Creating music and dance are two artistic talents that were a constant in Carina Ho's early years. When a spinal cord injury occurred in her late twenties, she had a choice – to rediscover her artistic past or to wallow in grief. She chose the former. Now armed with her stage name ONIKHO, this Oakland, California-based artist is showing the world what is possible artistically from a wheelchair. Read on to discover her powerful story.
Why She's Fearless
Born to Chinese immigrants in New York City, Carina's life as early as she can remember involved some kind of artistic outlet. At the age of four, she was enrolled in classical piano, and not long after that ballet. As a child, her family moved to California, which is where she grew into an adult and found herself in the tech world. In 2014 at the age of 26 however, her entire life changed.
While coming home from a family road trip, her family was rear-ended by on semi truck in an accident that resulted in Carina's spinal cord injury. Sadly, her mother was also killed the crash and her father suffered a brain injury. From that day forward, their family was forever changed. After returning home, Carina found herself in a deep depression.
Thankfully, there was a powerful healing agent just around the corner that was about to transform her life, and that was music. Carina decided this was her now or never opportunity to start the music career she always dreamed of. Knowing it was going to be difficult to join a band and to physically tour and perform in-person, she began to teach herself electronic music; or more specifically how to create music on a computer.
This was a learning challenge she welcomed, which helped with her healing and acclimating to paralysis. She soon was creating songs using a variety of instruments. Once Carina became comfortable learning the chords, she began to produce music with different instruments and effects using various computer software. Three years after her injury, ONIKHO was born. It was at first a project that told a universal story of self-discovery after loss and then evolved into her stage name.
Carina is heavily influenced by jazz and blues since her parents loved to listen to country music when she was a child. "Take your heart and make it art" is a popular quote she lives by, and this can certainly be felt through her music. She also feels compelled to show the world that artists with disabilities exist. She released her first album 3 years after injury that included four songs that reflected on her journey after her injury, as well as a music video for her single, "Brave One."
Music however hasn't been the only thing on her radar. Three years after injury, Carina joined the integrated dance company, AXIS, to learn how to feel comfortable in her body again as a dancer. After a rough start and frustrated with her body's limitations, she began to embrace adaptive dance and is now a professional dancer. She was a full-time dancer with AXIS for two years. In 2018, she received a scholarship from the Fulbright Program, where she lived in Uruguay for a year to promote adaptive dance. She taught workshops and choreographed a community dance piece with able-bodied and dancers with disabilities.
What's Next?
In 2019, Carina began to focus on creating more interesting visual elements to her work, producing her first short musical film "We Sleep No More." This short featured people in wheelchairs preforming a dance that she choreographed. And in Fall 2022, she composed music for an integrated dance company in Miami, Florida, Karen Petersen Dancers, for the Forward Motion Dance Festival. Music however is still huge in her life. For the month of September in 2022, she went on her first European tour where she performed in Glasgow, London and Berlin. This tour was a huge success.
Carina also released her 12th song in Fall 2022 titled, "Over It," which she says is one of the most upbeat, happy songs yet. "Over the past few years I've arrived at a stable, good place in my life which has created space for me to start creating from a place of a playfulness and even joy. Who would've thought?!"
— Visit her official site: https://onikhomusic.com/
— Visit her FB page for updates: https://www.facebook.com/onikhomusic/
— Follow her on IG: https://www.instagram.com/onikhomusic/