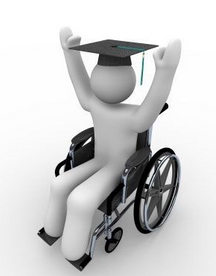 When you decide to make the big decision to go to college, your injury may give you access to more financial aid sources while pursuing your academic dreams. But don't think that just because you have a spinal cord injury, you're going to get a full ride.
However, there are plenty of places to search out financial assistance. For starters, you'll want to meet with a financial aid counselor at your college to discuss all of the options available to you. Some colleges, especially smaller, private universities, will not have as much financial aid available. Taking out loans will likely be something you must do if you decide to go to a private college and do not have a scholarship or family assistance.
Perkins loans are some of the most popular Federal loans that students use. Otherwise, subsidized and unsubsidized loans from the government are also available. If these loans are not available to you (this could happen if you or your parents make too much money), you'll have to take out a SELF loan (definition: A loan you take out from a bank in your name) instead.
But what if taking out loans isn't something you want to do? The Department of Rehabilitation (DR) (definition: Federal government department that helps people with disabilities become employed), which is a very helpful branch of the government for PWD, will help people with disabilities with their college costs if it helps them get off of public assistance.
The state you live in and the college you end up going to will greatly affect how much you will receive from DR. The funds you receive from DR are considered a grant, meaning you do not have to pay it back.
There are other grants available through the Federal government as well, such as Pell grants. After being accepted, colleges will send you a financial aid letter that explains all of your financial aid options, including any grants that are available to you. Scholarships are another possibility for students with spinal cord injuries (see below).
There are many nonprofits that provide tuition assistance to students with disabilities. One of the best-known nonprofits that provides financial aid to people with spinal cord injuries is the Byron Riesch Paralysis Foundation.
Otherwise, there are dozens of organizations, law firms, and foundations across the country that award assistance to students with spinal cord injuries. Many of these foundations only offer grants between $500 – $1,000, so you may have to apply for several grants to cover all your bases. Visit this link to learn about some of the financial aid options available to you: http://www.spinalcord.org/resource-center/askus/index.php?pg=kb.printer.friendly&id=10#c56
Takeaway Points
There is additional funding available for college if you have a spinal cord injury, but it will likely not cover it all of your tuition costs
The Department of Rehabilitation assists people with disabilities with their tuition expenses, but the amount received depends on if it is a public or private university
Dozens of scholarships are available to people with spinal cord injuries, but they generally do not exceed $1,000
Student loans are available if grants and scholarships are not enough to cover your tuition costs
You can still receive your monthly assistance (SSI, Social Security) if you receive financial aid for college
Financial Aid Resources