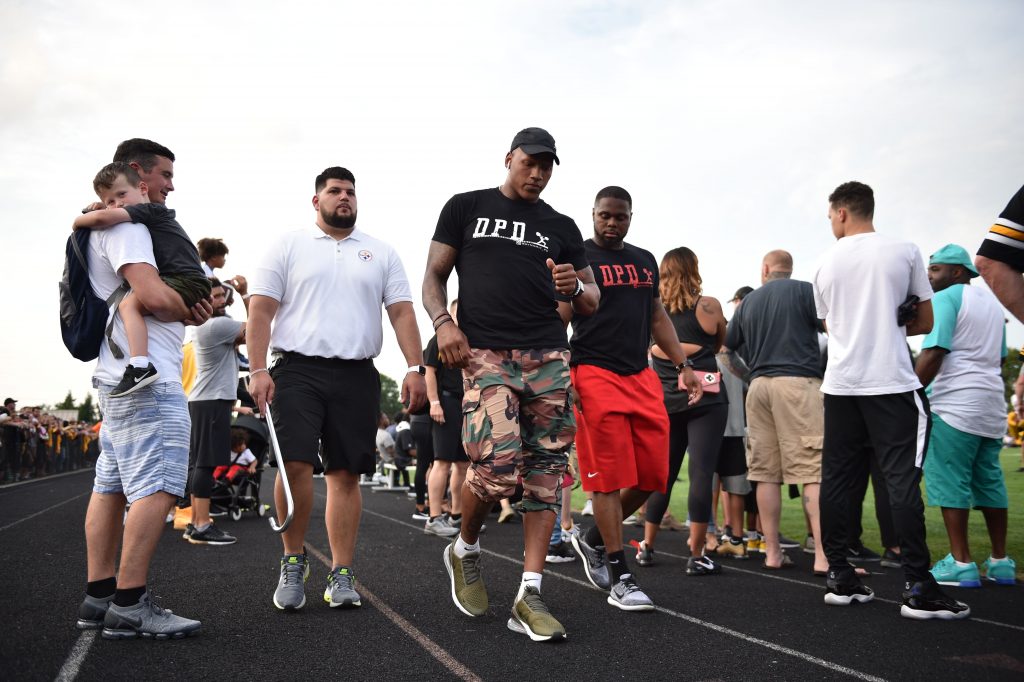 Football is notorious for causing spinal cord injuries and that is exactly what happened to Ryan Shazier, a former Pittsburgh Steelers who broke his neck in a game back in 2017 at the age of 25. Although he recovered the ability to walk, he retired from the sport due to safety concerns.
Fortunately for the spinal cord injury community, after retiring, Shazier decided to focus his energy on helping people with spinal cord injuries who were not as fortunate as he was through his foundation, The Ryan Shazier Fund for Spinal Rehabilitation. Read on for the story of this amazing nonprofit.
The Beginning & Their Grant Program
Officially formed in 2020, The Ryan Shazier Fund is the brainchild of Shazier. He witnessed the systematic barriers firsthand that prevented people with spinal cord injuries from achieving greatness in their recovery. He also saw how vulnerable the community was as a whole and wanted to find a way he could help. But what really struck him was the lack of resources that were available, such as the latest in exercise equipment or extended therapy hours.
"During his recovery, Ryan realized how privileged he was to have the resources he had available to him, while others were struggling to get that same care and support, so he decided to start a foundation," says the Program Manager of the fund Carolyn Slayton. "Ryan started the Fund with one overall goal in mind: To ensure all SCI patients have the same support and fighting chance as Ryan to live independent and meaningful lives, no matter their socioeconomic status."
Based in Pittsburgh, Pennsylvania, The Ryan Shazier Fund provides monetary support for the needs of people living with paralysis in the community. One of the most prominent programs is their Golden Window Program; a stipend program with a cap of $15,000. Preference for this program is given to those who are 2 years injured or less post-injury and have no other means of financial support.
The stipend will pay for things like caregivers, rehabilitation sessions, home adaptations, durable medical equipment, vehicle adaptations, mental health services, dietitians, water therapy and home modifications. Outside of having a medically diagnosed spinal cord injury as a requirement for this program, applicants must also reside in Western Pennsylvania, Eastern Ohio or various parts of West Virginia to apply (there's a list on their website that shows the eligible counties here
Peer Mentoring Services
If you are in need of peer mentoring, The Ryan Shazier Fund can help with this too. They offer a peer mentoring program to people living with paralysis that's a great opportunity to help people make as many personal connections as possible. This includes putting on social events to create opportunities for both parties to connect in-person. They also offer an online location for connections to be made through their two Facebook groups.
Their first group is the "Ryan Shazier Fund Family" group, which is for people with spinal cord injuries, and their second group is the "Ryan Shazier Fund Caregivers Portal" for family and caregivers. Both of these groups are private and you must have participated in one of their events to be invited to join.
And one of the coolest programs they offer is weekly "Ryan Times." This is when Ryan himself meets one-on-one with people who've sustained spinal cord injuries to offer them support, inspiration and candid conversation. He meets every Thursday with someone over Zoom.
And lastly, check out the events they put on for the families and caregivers. This past August, they hosted their first "SCI Street Fair", an event selling wares made by people with spinal cord injuries. And they host two family retreat weekends every year that are completely free. These retreats give these groups of people the opportunity to do things like go swimming, try adapted golf, yoga and go to fun events in the Pittsburgh-area like a Pittsburgh Pirates baseball game.
Want to apply for the Golden Window Program? Learn more here