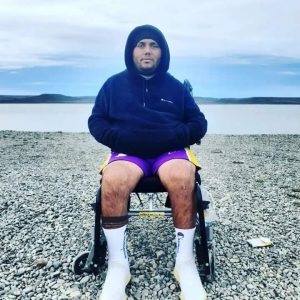 (Mario was injured in 2017 and is a C5-6 quadriplegic from Argentina)
My name is Mario Martínez. I am 32 years old and I live in Rio Gallegos, Santa Cruz, Argentina. At the age of 27, I was in a car accident and sustained a spinal cord injury at the c5 and c6 level as a result of whiplash. I was hospitalized for 8 months in intensive care with an artificial respirator and the doctors and surgeons told me I was only going to be able to move my head and wear a portable respirator for the rest of my life.
Later on I was referred to a rehabilitation clinic where when I started my rehab routine again. I realized that with effort and training, I was going to be able to achieve better mobility and more control of my body than I had been diagnosed with.
That was not difficult for me. In my "previous life" (that's what I call when I walked), I played soccer since I was 5 years old. I was also involved in athletics, jambol, etc., so having a training routine was not complex. Also since I was 16 years old, I started working in gastronomy, in the branch of bakery and confectionery, that is what I dedicated myself to.
Now my dream is to be able to improve my rehabilitation at NextStep Orlando (an intense SCI rehab gym in Florida focused on activity-based therapies). After this experience at NextStep, I would also like to return and be able to reinsert myself in the workplace and socially. I would also like to do some type of adapted sport, resume studies, travel and start over from scratch with new challenges.
Also, my greatest inspiration to achieve all of this and more is my son Thiago, who is 8 years old and will be 9 in September. I would like him to know that he should not lower his arms despite the circumstances of life. A huge hug to all to continue.
— Follow Mario on Instagram at @martinez_mario25
— Follow his recovery efforts on TikTok